The Smartest Giant in Town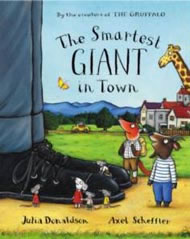 George didn't like being the scruffiest giant in town, so when he sees a new shop selling giant-size clothes he decides it's time to update his image. With smart trousers, a smart shirt, stripy tie and shiny shoes, George is a new giant. But on his way home, he meets various animals who desperately need his help...and his clothes!
All children will love this funny and warm-hearted tale.
Publication details
Author: Julia Donaldson
Illustration: Axel Scheffler
Binding: Paperback, 30 pages
ISBN: 9780333963968
Imprint: Macmillan Children's Books
Format: 270mm x 216mm
Price: £6.50
This product is not currently available.