Other Sections
In your basket
Total £0.00
Kids in the Garden and Kids in the Wild Garden (2 book set)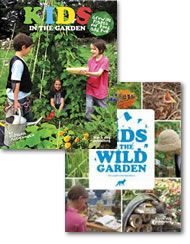 Kids in the Garden is an easy and fun guide for children to use on their own or with adults, and encourages children to learn about gardening, healthy eating and caring for the environment. With easy to follow step-by-step instructions, bright photography and fun illustrations.
Kids in the Wild Garden demonstrates that you do not have to look far to discover rich and unexpected wildlife, the book's playful format and variety of experiments, projects and games, make this a perfect resource for adults and children of all ages.
For full book details see individual listings
.
Publication details
Author: Elizabeth McCorquodale
Binding: Paperback, 96 pages
Imprint: Black Dog Publishing
ISBN: 978 1 907317 20 0
ISBN: 9781906155926
Format: 270mm x 210mm
Price: £17.00 (2 book set)
This product is not currently available.