Nature Adventures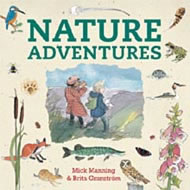 A guide to child-led family activities centred on nature rambles in different habitats – park, seaside, woodland, moorland, riverbanks and lakes – through the seasons, by Mick Manning and Brita Granström. Spreads comprise large colourful identification illustrations complemented by activities and facts. Activities include identifying common European species of insects, plants, mammals and birds, looking for tracks, feathers, droppings, making plastercasts of tracks, and collecting and displaying seeds, leaves and fruit and nuts. Suitable for children aged 6-9 years.
Publication Details
Author: Mick Manning and Brita Granström
Binding: paperback, 48 pages
Imprint: Frances Lincoln Children's Books
ISBN: 9781847800886
Format: 240mm x 240mm
Price: £7.99
This product is not currently available.