A Taste of Tagore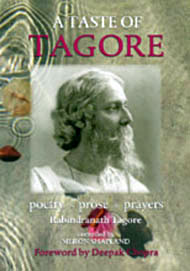 By Rabindranath Tagore, compiled by Meron Shapland
Foreword by Deepak Chopra
A Taste of Tagore enables some of the magical poetry, elegant prose and meaningful prayers of Rabindranath Tagore, India's first Nobel Laureate, to be used as contemplations in our daily lives. These extracts are taken from his many writings about the environment, education, the arts, politics, travel and humanism. Tagore's lifestyle embraced simplicity, moderation in consumption, cohesion and harmony between religions, cultures and countries. A Taste of Tagore presents the diversity, depth and spirituality of his writings in one book.
The publishing of this book coincides with UNESCO's declaration of 2011 as the Year of Tagore to celebrate the 150th anniversary of his birth in Bengal. The selection was compiled by Meron Shapland, and includes a forward by Deepak Chopra.
Binding: Paperback, 152 pages
ISBN: 9781900322935
Format: 216mm x 138mm
Imprint: Green Books
Price: £9.95, plus p&p
This product is not currently available.