Animate Earth DVD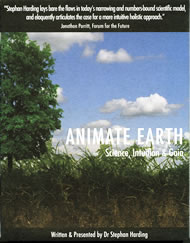 Special offer for Resurgence readers: Just £10.50, plus p&p (rrp £15)
"A wonderful film. No one tells the awesome story of how we can use science to deeply connect with the earth better or with more inspiration than Stephan Harding." — David W. Orr
Building on the revolutionary discoveries of James Lovelock's Gaia Theory, Stephan Harding explores how we can heal our relationship with the Earth through the new discipline of holistic science.
The film features interviews with leading environmentalists, scientists and spiritual leaders, including Iain McGilchrist, Fritjof Capra, Vandana Shiva, Jules Cashford and Satish Kumar.
This product is not currently available.