Other Sections
In your basket
Total £0.00
The Beauty of Craft and Images of Earth & Spirit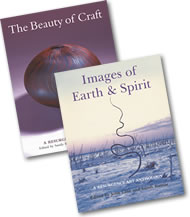 Buy these two Resurgence anthologies together and save £10.
THE BEAUTY OF CRAFT
A celebration of crafts and their connection with spirituality, ecology and sustainable, joyful living. Beautifully illustrated with colour photographs, these essays provide a rare insight into the thoughts, stories, experiences, observations and feelings of skilled craftspeople.
(192 pages, hard back book, rrp £20)
IMAGES OF EARTH & SPIRIT
Featuring the work of over 50 artists whose work has an enduring spiritual resonance, this exquisite book celebrates the Earth and the renewal of life. With over 140 illustrations accompanied by interviews and insights into the work of the artists, this book offers a new sense of our interconnectedness with the whole universe.
(192 pages, hard back book, rrp £20)
ADD ONE of 'The Beauty of Craft and Images of Earth & Spirit' for £30.00 [RESO001]