Other Sections
In your basket
Total £0.00
Go MAD! Go Make a Difference 2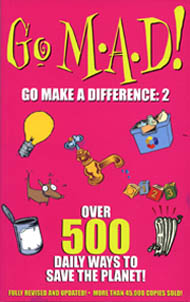 By Jo Bourne and Emma Jones (eds)
If you care about the environment and aren't sure how to make a positive difference, look no further. Go MAD! Go Make a Difference 2 is full of fascinating facts, thought-provoking statistics and over 500 practical tips to help you make a difference.
Published by Think Publishing. ISBN: 0954136322. Paperback, 274 pages. Size: 178mm x 110mm
This product is not currently available.