Green Up!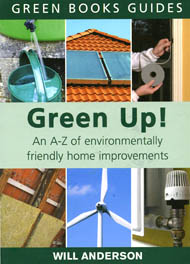 by Will Anderson
Green Up! is a compact reference guide to greening your house, from minor improvements such as what paint to use to major ones, such as how to choose and install solar electric panels.
Structured in A-Z format, each entry lists an area for greening your house, and then describes the options available, the pros and cons, costs, risks and problems, as well as sources of information and advice.
Drawing on his experience of having built his own eco-friendly house, Will Anderson writes from the perspective of having tackled these problems himself, but without assuming any prior technical knowledge on the part of the reader.

Among the many topics covered are:
paint, decoration, furniture and carpets

boilers, baths and plumbing

heating, lighting, insulation and energy

gardens, fencing, paving, composting, and

builders, architects and building regulations

Packed with practical, no-nonsense advice, Green Up! offers something for householders in every income bracket.
ISBN: 9781903998946. Paperback, 144 pages. Size: 174mm x 123mm
This product is not currently available.