The Good Shopping Guide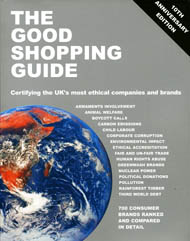 by William Sankey (ed)
The Good Shopping Guide is the world's leading ethical shopping reference book. It reports on and ranks the ethical scores of the companies behind hundreds of the world's biggest brands – with regard to the Environment, Animal Welfare and Human Rights records.
Over 60 different product sectors are covered, everything from Banks to Butter and Washing Machines to Jeans. Each product section gives useful information about the ethical issues to take in to consideration when purchasing that product, and an at-a-glance summary of the overall ethicality scores of different companies and brands. A more in-depth table shows exactly what each company has been involved in, or not – from animal testing through to political donations.
The Good Shopping Guide, 10th anniversary edition, which is full colour throughout, also contains beautiful colour pictures of the natural world.
Published by The Ethical Company Organisation. ISBN: 9780952290770. Paperback, 362 pages. Size 205mm x 160mm.
Now available at the special price of £5.00 (rrp £14.95)- SORRY NOW SOLD OUT!
This product is not currently available.