Other Sections
In your basket
Total £0.00
Small World, Big Ideas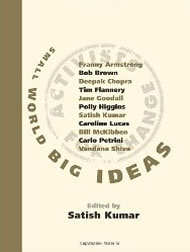 There's an activist in all of us. That's the message from this book which highlights the personal stories of green activists – Franny Armstrong, Bob Brown, Deepak Chopra, Tim Flannery, Jane Goodall, Polly Higgins, Caroline Lucas, Bill McKibben, Carlo Petrini and Vandana Shiva. This book encourages all of us to be the change we want to see in the world.
This book has been published to celebrate the 50th anniversary of Satish's own remarkable 8,000-mile peace walk across the globe and will convince readers old and young, to stand up and speak out for the causes they believe in.
Edited by Satish Kumar
More about the Small World, Big Ideas Project
Hardback

Now available at the special price of £10.00 (rrr £16.99)
This product is not currently available.