Voice of the Children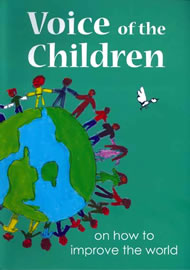 Voice of the Children on how to improve the world. Children from across the UK were asked to answer the question: "How would you improve the world?"
This book is their response. These Year 5 and 6 children cover many topics in their drawings, poems, letters and songs. They do not ask for more toys, games, time of school - in fact, not one child asked for something for him/herself.
Instead the children are calling for support for endangered animals. They are concerned about climate change. They are calling for a stop to bullying, to war and to violence.
Voice of the Children gives them a chance to have a say in their future. Hear waht these children have to say in this remarkable book.
Price: £15.00 plus p&p
214pp, paper back
ISBN: 978-0-9557567-1-9
Publisher: Leaf & Star Publishing
This product is not currently available.