Other Sections
In your basket
Total £0.00
Rhythms del Mundo: Africa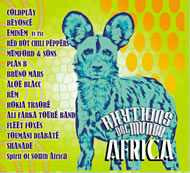 High profile western and African musicians collaborate on exclusive African mixes of contemporary hits. Featuring: Not Afraid by Eminem, Timshel by Mumford and Sons, I Need A Dollar by Aloe Blacc, Under the Bridge by the Red Hot Chili Peppers and many more.
Funds raised from sales will support Artist Project Earth's ongoing work to help those addressing issues of climate change and environmental justice.
£9.99 plus p&p
This product is not currently available.