Baka Gbine Kopolo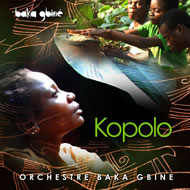 Orchéstre Baka Gbiné are Baka musicians from the Cameroon-Congo border, deep in the rainforest. Using guitars, percussion, voices and dance they play modern songs heavily influenced by both their traditional music and the Congolese music they hear on the radio.
Royalties earned by Baka Gbiné are channelled back to the musicians and their communities through Global Music Exchange, enabling the Baka to put in place sustainable projects which they decide upon themselves.
Now available at the special price of £6.00 (rrp £9.50)
This product is not currently available.