Other Sections
In your basket
Total £0.00
Baka Gbine Gati Bongo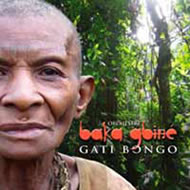 The compelling debut album by Baka Gbiné, recorded live and solar powered in the rain forest of Cameroon in 2004 and 2005. Using guitars alongside traditional instruments, the Baka Pygmies have created their own distinct and irresistible style that is both joyous and gentle.
Royalties earned by Baka Gbiné are channelled back to the musicians and their communities through Global Music Exchange, enabling the Baka to put in place sustainable projects which they decide upon themselves.
Now available at the special price of £6.00 (rrp £9.50)
This product is not currently available.