Other Sections
In your basket
Total £0.00
Astonishing Art with Recycled Rubbish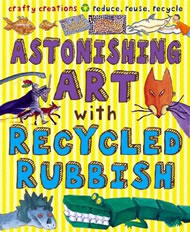 This book will show you how to turn junk into amazing works of art. Make an Onion Fish out of real onion skins, a Jewelled Collar from can pulls and Megga Mosaics with eggshells. These are just some of the amazing things you can create from the stuff you normally throw away. Every project is tried and tested, uses everyday materials and has clear step-by-step instructions. There's also 'Think About It' boxes throughout the book with facts on green themes!
Product details
Paperback: 48 pages
Publisher: b small publishing; 2nd Revised edition (1 Oct 2012)
ISBN-13: 978-1908164612
Product Dimensions: 21.2 x 18 x 0.6 cm
This product is not currently available.