Audio CD Holistic Education: Fireside Chats (Schumacher College)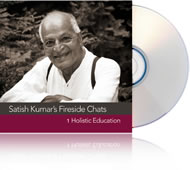 When you are in touch with the earth, you are in touch with the true reality.
Satish asks, 'What can walking teach us about life and how to live it?' Satish talks about the different kinds of time that exist - clock time and eternal time - and how we relate to both. Satish introduces us to the idea that learning begins with listening; 'In India, we say someone is learned, if they have listened a lot'. He also speaks about the role of technology, of money - who we invest in and why - and what the real investment in life really is.
This CD forms part of a series of Fireside Chats by Satish Kumar, recorded during his time teaching at Schumacher College. Produced by Shelley Williams, Reel Soul
Special Price £3.00 (rrp £6.00)
ADD ONE of 'Audio CD Holistic Education: Fireside Chats (Schumacher College)' for £3.00 [RECD009]