Other Sections
In your basket
Total £0.00
The Buddha and the Terrorist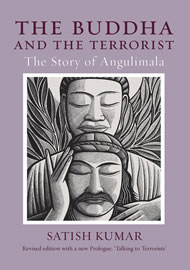 By Satish Kumar
Listen to Satish Kumar speaking about The Buddha and the Terrorist
"The Buddha and the Terrorist is an inspiring retelling of an ancient legend. It has a lucid clarity and directness that speaks pointedly and movingly to our times. It should touch every heart that meets it." • Pico Iyer, author of The Global Soul.
lOnce upon a time in northern India, there lived a violent and fearsome outcaste called Angulimala ('necklace of fingers'). He terrorised towns and villages in order to try to gain control of the state, murdering people and adding their fingers to his gruesome necklace.
The Buddha set out to meet Angulimala, and with the power of love and compassion he persuaded him to renounce violence and take responsibility for his past actions. Thus Angulimala was transformed. The Buddha and The Terrorist brings a message for our time about the importance of looking for the root causes of violence, and of finding peaceful means to end terror.
Price: £4.95
Paperback - 88 pages
ISBN: 978-1-903998-63-2
Dimensions: 173mm x 122mm x 7mm
This product is not currently available.