Other Sections
In your basket
Total £0.00
The Gist: A Celebration of Imagination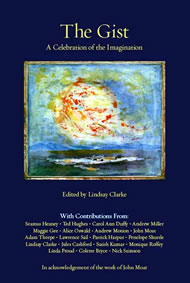 The Gist: A Celebration of the Imagination
Nobel Prize-winning poet Seamus Heaney and Poet Laureate Carol Ann Duffy are among a number of distinguished writers contributing to The Gist: A Celebration of the Imagination, a book of essays, poems and reflections brought together in acknowledgment of the life and work of John Moat, co-founder of Arvon and long-time contributor to Resurgence magazine.
The Gist, among other stimulating offerings, includes Seamus Heaney's reflections on inspirational encounters; delightfully playful and funny pages from Alice Oswald's workbook as she pens a 'Wind Poem'; Satish Kumar's personal reflections on his friendship with John Moat, and illuminating pieces by award-winning novelists Andrew Miller and Adam Thorpe. Essays by Maggie Gee, Penelope Shuttle, Monique Roffey and John Moat himself consider the educational, social and cultural importance of Arvon's work, while authors such as Jules Cashford and Patrick Harpur offer surprising mythological and philosophical insights on the Imagination.
Published by Arvon in association with The Write Factor, and edited by the novelist Lindsay Clarke, the book has a Foreword by Andrew Motion and reprints an important essay on Arvon and Education by Ted Hughes.
By examining the nature of the Imagination in engaging and illuminating ways, and showing examples of its powers in full flight, The Gist is designed to bring encouragement and inspiration to all who are enchanted by the magic of language and seek to live a creative life.
All proceeds from the sale of this book go to Arvon, which is a UK Charitable Trust.
Price: £9.99 plus p&p
Edited by Lindsay Clark
ISBN: 978-0-9568735-2-1
224pp, paperback
ADD ONE of 'The Gist: A Celebration of Imagination' for £9.99 [REBK029]