Other Sections
In your basket
Total £0.00
The Vegan Cookbook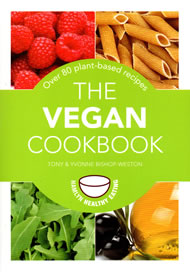 From crispy stuffed peppadew peppers and egg free omelette to chocolate chip and walnut ice cream, discover a range of meat, fish and dairy free meal options that are naturally low in saturated fat and full of flavour and essential nutrients.
Healthy and tasty, 100 per cent plant based food for the whole family, 86 recipes for all occasions, from elegant dinners to quick lunches. Creative ideas for emergency snacks and meals for when you're in a hurry.
Clear nutritional information that makes it easy to achieve a balanced and delicious vegan diet.
Price: £5.99
Paperback - 128 pages
ISBN: 9 780600 628842
Dimensions: 210mm x 150mm x 8mm
This product is not currently available.