Welcome to Resurgence Gift Pack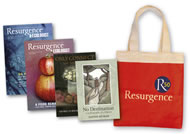 A journey of discovery with Resurgence & Ecologist magazine. A selection of books and magazines giving a taste of Resurgence throughout the years. The perfect introduction to The Resurgence Trust, providing inspiration and ideas on sustainable living.
Featuring:
No Destination
Only Connect
The two latest issues of Resurgence and Ecologist
£5 off voucher for membership to The Resurgence Trust
All presented in a limited edition reusable eco-friendly bag with the Resurgence 50th anniversary logo. Magazines may vary from those shown.
ADD ONE of 'Welcome to Resurgence Gift Pack' for £18.50 [REGP001]