Tread Lightly Gift Pack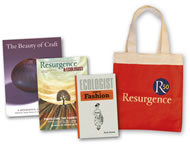 A selection of books and Resurgence issues on the theme of pilgrimage, spirituality and ecology. A perfect guide to enrich your life's journey and develop a deeper understanding of spiritual traditions.
Featuring:
Earth Pilgrim, Satish Kumar
No Destination Satish Kumar autobiography
Wellbeing, Resurgence issue 269
£5 off voucher for membership to The Resurgence Trust
All presented in a free reusable eco-friendly bag featuring the Resurgence logo Live Lightly - Think Deeply.
Please note: issue 265 which featured in this gift pack in our printed catalogue is now out of stock and has be replaced by issue 269.
ADD ONE of 'Tread Lightly Gift Pack' for £19.00 [REGP002]