Other Sections
In your basket
Total £0.00
First time vegan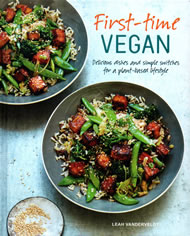 Whether you are taking steps to look after your personal wellbeing or to support a specific cause, choosing a vegan diet is a commendable undertaking and can be mutually beneficial for both people and planet. But where to begin? And how to make sure you are ticking the right boxes to ensure your new diet is sustainable and enjoyable?
Enter First-time Vegan: with information on getting enough protein, meal planning and prep, plant based substitutes, travelling as a vegan and more, you can start your vegan journey the right way. For those who are already vegan, this book offers new recipes to enjoy.
Hardback, 144 pages.
ADD ONE of 'First Time Vegan' for £9.99 [REBK058]