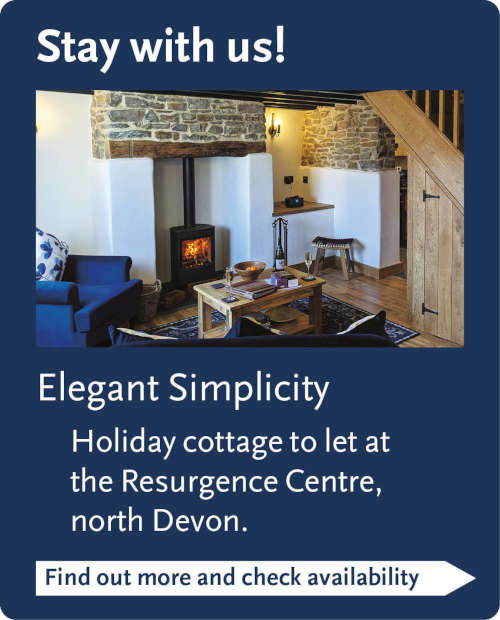 In this special themed issue, we tackle eco-anxiety and explore ways in which we can navigate these difficult feelings. We examine too the new idea of 'solastalgia' which takes the concept of eco-anxiety a step further to examine the lived experience of dealing with the impacts of climate change.
In the Ecologist pages Rashi Goel reports on a restoration project that is bringing an arid desert wasteland, near the Indian city of Jodhpur, back to a place that is now teeming with life. Whilst in Connected Life, Lynn Houghton joins other Citizen Scientists to work with researchers on the trail of the elusive Cloud Wolf in remote Manitoba, central Canada.
In The Slow Read, author and activist Koohan Paik-Mander puts forward a case against megatechnology and warns that the time to stop AI in its tracks is now. She goes on to call for a new paradigm of holism that recognises that everything exists in relation to everything else.
Within Wisdom and Wellbeing natural chef Adria Wu shares her seasonal, superfood mince pie recipe and our Art & Culture pages feature an interview with Turner Prize winning artist Jeremy Deller about creating communities through the magic of art.
We hope you enjoy our selection of free articles from this issue of Resurgence & Ecologist magazine.
To read the issue in full, purchase a print or pdf magazine, or join The Resurgence Trust to receive 6 issues a year, with free access to the complete archive.
Featured articles from the latest issue of Resurgence & Ecologist magazine
Picture Credits
Cover image: This Shifting Earth, 2021 by Kim Anderson; No More Playing Nice: Illustration by Sébastien Thibault; Tuning in to Nature: Artwork by Molly Lemon: In the Borderlands: Linen dress by Ruusa Vuori Photo: Sofia Okkonen; What is Solastalgia?: Geoffrey (Kikoko) GPS, Bwindi Hub, Uganda © Image courtesy Invisible Flock; A Crisis of Connection: Illustration by Maya Adams; The Plant's the Star: Illustrations by Lorin Cinar.