Other Sections
In your basket
Total £0.00
New Internationalist NI531: Vaccine Equality, May/June 2021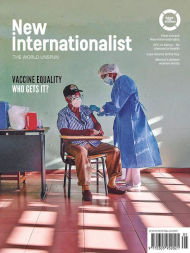 A feat of global collaboration. As Covid-19 vaccines emerged, the future seemed to open up again. But amid the celebration lay a parallel story of inequality and corporate power.
Here on 'Plague Island', Prime Minister Boris Johnson has revelled in the success of the vaccine rollout. Yet the hoarding of vaccines - as demonstrated by the UK and other wealthy nations - can only have a negative impact on the world's ability to stop the spread of the virus.
If there were ever a time to be an internationalist, it's now. It's an urgent lesson to learn as the world faces multiple crises - from climate change and biodiversity collapse to a spike in hunger. It's been New Internationalist's message for nearly half a century and our in-depth, solutions-focused stories feel more important than ever.
It's as true now as it was in the early 1970s when we were founded: it's internationalism or bust.
84 pages
Price £7.45 plus p&p
Add one of 'New Internationalist NI531: Vaccine Equality, May/June 2021' for £7.45
Item code: rebk101