Other Sections
In your basket
Total £0.00
This I Believe and Other Essays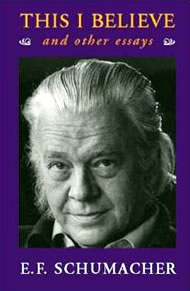 By E F Schumacher
Twenty years after his death, the ideas of E.F. Schumacher still resonate through the environmental movement. With his deep spiritual vision and rejection of Western materialism and economic exploitation, Schumacher saw the need to give societies, communities and individuals practical tools for change. He is best known for his book Small is Beautiful: Economics As If People Mattered, which became an international best-seller. Published to mark the 20th anniversary of Schumacher's death, This I Believe is the only book that covers the whole range of Schumacher's thinking. It is essential reading for all admirers of Schumacher and his work. This I Believe will introduce a new audience to the freshness, clarity and profundity of his thinking, which has inspired a generation.
"There is no one like Schumacher around today. We have very few sages and even fewer saints to help us. It is true that we have moved on a lot from the often-simplistic thinking of the early 1970s. In other ways, however, we seem to have made little progress. But Schumacher's wisdom and spiritual insights live on in the work of the Schumacher Society, through the pages of Resurgence and in this fascinating collection of essays." - Jonathon Porritt
Price: £8.95
Paperback - 224 pages
Publisher: Green Books
ISBN: 9781870098663
Dimensions: Format: 232mm x 155mm x 16mm
This product is not currently available.