Gallery
Resurgence has always featured the work of visual artists who give expression to the themes and values espoused in the magazine. Some of these artists are relatively well known; others have only a local reputation. All have been selected because there is something about their imaginative work which chimes with, or amplifies the spiritual and ecological message of Resurgence.
The Resurgence Gallery highlights the work of some of the artists already featured in the pages of the magazine and the work of some of the artists who kindly took part in our Charity Art Auction held at the Rebecca Hossack Gallery. We will be adding to this site over time. We hope you find enjoyment and inspiration in the artwork featured here.
Pertaining to Things Natural
Exhibition at the Chelsea Physic Garden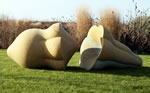 This exhibition, Pertaining to Things Natural, presents monumental sculptures along with delicate drawings and ephemeral land art projects, giving a compelling insight into contemporary creativity inspired by the natural world. This is the first collaborative project presented by Art-Happens and The Eden Project, and sets out to consider a new way of presenting and dealing with environmental issues through contemporary art practice.
Resurgence Gallery
Latest in the Gallery: Anne Currie