The Resurgence Trust Impact Report 2020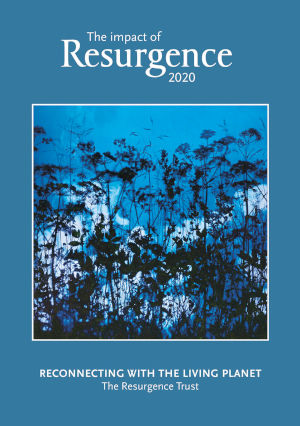 The Resurgence Trust is an educational charity that strives to help everyone connect - with each other and with the planet. In these extraordinary times, The Resurgence Trust has adapted and responded to an ever-changing environment, while continuing to produce unique and impactful publications and events.
In this Impact Report we share our key areas of work and achievements over the last year, and thank our readers and funders for their continued support.
This year Resurgence has:
Developed a series of online events, courses and workshops from the Resurgence Environmental Education Centre in the former Small School buildings, Hartland.
Published six innovative, inspiring, cutting-edge and beautifully-designed issues of Resurgence & Ecologist magazines.
Published more articles than ever before on The Ecologist website, reaching over 3 million visitors a year.
Welcomed hundreds of people to our annual Festival of Wellbeing and our monthly Resurgence Talks held online via Zoom.
Launched a Resurgence online Book Club and Resurgence Readers' group online.
Created new videos about our work and made videos of Resurgence talks freely available on our Vimeo channel
Worked closely with partner organisations including 42 Acres and Advaya to reach out to a wider network of people.
The work of The Resurgence Trust is all possible due to the support of our readers and members for which we thank you!
Read (and download) the full Impact of Resurgence Report 2020 here
Read previous Impact Reports
Read (and download) the full Impact of Resurgence Report 2019 here
Support our work
You can support our work by purchasing a copy of Resurgence & Ecologist magazine, or joining The Resurgence Trust as a member.