Resurgence groups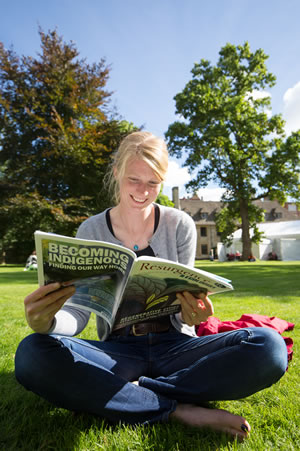 Building Community - Growing the Resurgence network
Are you thinking of setting up a Resurgence Group in your Area? Regularly meeting with like-minded people brings a feeling of connection and an opportunity to discuss solutions to the pressing issues facing our planet. Meeting, sharing and celebrating together is good for you and for the wellbeing of your local community.
Read our Editor''s letter to our Resurgence groups.
Stay Connected - Think Globally, Act Locally!
Resurgence groups provide an opportunity for people in the same local area to meet and share ideas, take part in discussions around themes of ethical living, ecology & creative arts - and to perhaps meditate or share seasonal food.
If there isn't a group near you - why not start one?
See a list of Resurgence groups
Download a Resurgence Group pack for more information on Resurgence groups
Topic suggestions for discussion during a group meeting
We suggest that before starting a group you attend at least one Resurgence event to meet the team and find out more about The Resurgence Trust. Come along to the Resurgence Summer Camp, our annual Festival of Wellbeing or one of our other events.
See the events pages for details of our events
Resurgence readers are encouraged to share responsibility and rotate homes/venues to meet in - so being the founder doesn't mean you have to take on all the work.
Each group has the flexibility to arrange the format of their own sessions, which could include a short meditation (we can provide a guidance tape if required) and a 'bring and share' meal of local in-season food, followed by a discussion on Resurgence topics. The frequency of get-togethers can be arranged to suit the group members. For those using social media, our Facebook news feed can also be easily accessed for info about online articles and upcoming events.
Suggestions on topics that can be discussed during your meeting, see our Topics for Discussion page
We can also provide you with a selection of archive issues of Resurgence & Ecologist magazine, a Resurgence Readers' Group pack, posters and other resources to help you spark local interest in the Resurgence Trust, the magazine and events.
So, if you're interested in starting a Resurgence group please contact Jeanette from our membership team, who can provide advice and information to help you get things going. Contact Jeanette by email at readersgroups@resurgence.org or by phone on 01208 841824. Thank you for helping to share the inspiration that Resurgence gives with your community.
Resurgence groups in the UK
Bournemouth
Contact: Anna Moreton, Tel: 07935325604
Email: annamoreton10@gmail.com
Cambridgeshire
Meeting monthly
Contact: Carly Juneau 07935935197
Email: carly_juneau@yahoo.co.uk
Dorset
Contact: Pamela Rosling Tel: 01258818223
Email: pamrosling@yahoo.co.uk
www.meetup.com/Resurgence-Dorset
We meet every 2 months to discuss articles which have inspired us from recent editions and to listen to visiting speakers or watch films on current issues to do with the environment, ethical living, social justice etc. But above all we value the opportunity to connect with like-minded people and appreciate each others' support and encouragement.
East Devon
Meet on the first Wednesday of the month, 7pm.
Venue: The Spiral Sanctuary, Combe Farm, Axmouth, Seaton, Devon
Contact: Christina Tel: 01297 23822
Email: tinabows@hotmail.com
This group has a short meditation followed by a discussion of 3-4 recent articles. It is part of a programme at the Spiral Centre which includes full moon walks round Seaton Labryinth, regular work parties in the Community Woodland Orchard (or Forest Garden), wild food days, Solstice, Apple Harvest and May Day celebrations. There is also an extensive library. More local or visiting readers will be welcome.
Isle of Wight
Contact: Christina Vince Tel: 07942 898402
email: cbv@rydeschool.net
Liverpool/Merseyside
Vesna Levi. Email: vesnamlevi@gmail.com
Tel: 07966 81676
Meeting monthly second Monday of each month but with Christmas, Easter and Summer break in December, April and August. It is emerging that this group may be primarily for networking purpose but will not be excluding opportunities to engage with practical projects.
London
Contact: Joanna Blundell & Bella Hingamp
Email: resurgencelondon@gmail.com
Tel: 07740 932466 or 07887 706006
Meeting every two months
Midlands
Contact: Jonathan Horsfield
email: jonathanandjackyCH@gmail.com
tel: 07910 124324
Meeting every two months initially. Meeting dates arranged- Sunday 3rd March and Sunday 5th May - 11.00 for 11.30 am with a 'bring and share' lunch at Crown House, High Street, Napton on the Hill, Warwickshire CV47 8LZ
After a first meeting it is hoped that the content and format of subsequent get togethers will be shaped by those attending and their willingness to participate!
Newcastle
Contact : Margaret Evans. Meeting monthly.Email: margaretevans.wb@gmail.com Tel: 07713 275175
Usually meeting on the last Wednesday of the month,
Norfolk
Contact: Victoria Manthorpe. Email: victoria.manthorpe@gmail.com
Meeting bi-monthly
At the minute we are meeting at a member's home and, as Satish recommended, bringing food to share for the evening.
Sheffield
Meeting bi-monthly
Contact: James Adams 07422 575853
Email : Jamesadams.grow@gmail.com
We meet every two months to coincide with the magazine publication and discuss topics raisied within the magazine and similar issues which may be of interest to readers.
Welsh Borders
Near Hay on Wye, 6.30pm, quarterly.
Contact: Email: gaiapartnership@gmail.com Tel: 01981 550246. Starting with a meal, followed by a short meditation and discussion of a Resurgence article.
AROUND THE WORLD
Australia-Melbourne
Contact: Keith & Debby Badger (@the Rescope Project)
Email: keithbadger00@gmail.com
Tel: 61 (0) 419 542 134
Meeting bi-monthly
Colombia - Bogota
Contact : nataliavellaneda@gmail.com
Location: Public Library Julio Mario Santodomingo-mainly Park
Meeting once a month
The group meetings will be as far as possible in representative natural areas of our city Bogota. There initially we will work on body awareness followed by a moment of meditation. Then we will discuss and reflect on text in the magazine and see how we can apply this to our Colombian environment and decide on a course of action if needed from both the group and individuals.Our themes then revolve around eco-spirituality, wellness, tourism and political ecology.
Italy - Faedis
Contact: Mauro Cavallo
Email: cortedeimolini@libero.it
Tel: 0039 0432 728606
Sharing a passion for the countryside and a lifestyle in harmony with nature. The first meeting in September included a botanical excursion in the hills of the Valley of Grivo, sharing wonderful moments between species indentification herbs and the spirit of the forest.
Netherlands
Contact David Andreae
Email: davidan@kpnmail.nl
Tel: 0031 411677597
Members are from Holland and Belgium and the language is Dutch and English and they will meet at each others houses.
Portugal -Paredes de Coura
Contact: Gabriel Cunha
Email: gabrielcunha@gmail.com
Tel: (+351) 919991585
Or contact: Rajesh Pai Email: rajesh.pai@green-pai-energy.com
Meeting bi-monthly.
South Africa -Cape Town
Contact:Galeo Saintz
Email : galeo@galeosaintz.com
Tel mobile: +27 (0) 82 888 8181
Meeting on the first Wednesday evening of every second month. Bring and share dinner. They aim to share dialogue around the themes brought to light by Resurgence and inspire and expand their local endeavours to carry these forward into their lives.
East London
Contact: Claire Kockott tel: +27(0)43 7374431
Email: clairekockott@mweb.co.za
Supporting Groups
Hertfordshire
Hemel Hempstead
Contact: Paul Sandford. Email: paulsandford28@yahoo.co.uk
Tel: 07767075490. This is an Interfaith group who meet and support reverential and sacred Ecology.Their intention is to cultivate awareness of issues in Resurgence and Amnesty International. They meet on the 2nd Wednesday of the month.
London
Antara Project Group
Contact: Annemarie Borg DES FRSA
Email:info@antara-project.com or antara05@gmail.com
https:antara-project.com
This project focuses on the role of Artists today, how and if we can reflect as a group the concerns so many of us share today as well as express our hopes for the future. The first meeting on 15th February 2011 is a presentation of intentions and goals, understanding how people feel about their role, uniting like-minded artists and organising later on a series of day conferences-performances as well as taking this project abroad.