Resurgence & Ecologist book club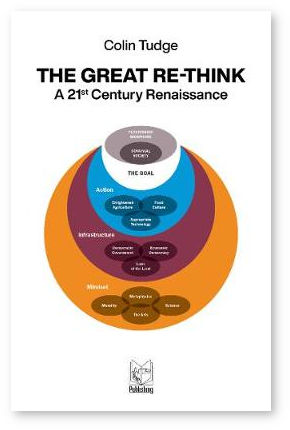 The Resurgence online Book Club meets regularly to share ideas about books that have featured in the magazine. Hosted by Resurgence & Ecologist Editor Marianne Brown, each month we will have a Q&A with an author, followed by a group discussion. We very much look forward to seeing you there!
17 Feb 2021 at 19:00
For our next book club in February 2021, we welcome Colin Tudge. Marianne will be talking to Colin about his latest book The Great Re-think: A 21st-Century Renaissance (Pari Publishing, 2021). Colin Tudge is a science writer and broadcaster. He is the author of numerous works on food, agriculture, genetics, and species diversity and his work has frequently been published in Resurgence & Ecologist magazine.
Join Colin and Marianne for a Q&A at the end of February, followed by a book club chat. We welcome questions both for the Q&A with the author and the discussion afterwards. Please email your questions in advance to: bookclub@resurgence.org with the subject line QUESTION FOR BOOK CLUB. There will also be an opportunity to ask questions during the meeting via the online chat on Zoom.
Read Colin Tudge's article 'Fenced In' from the Jan/Feb 2021 issue of Resurgence & Ecologist
Read Colin Tudge's article 'A Food Renaissance Goes Live' from the Jan/Feb 2016 issue of Resurgence & Ecologist
Reviews
Resurgence & Ecologist cover significant, groundbreaking books and films that are often ignored by the mainstream media. Reviews from the past year are shown below. Older reviews are listed separately. Reviews can also be located through our article archive search facility.