Resurgence & Ecologist Magazine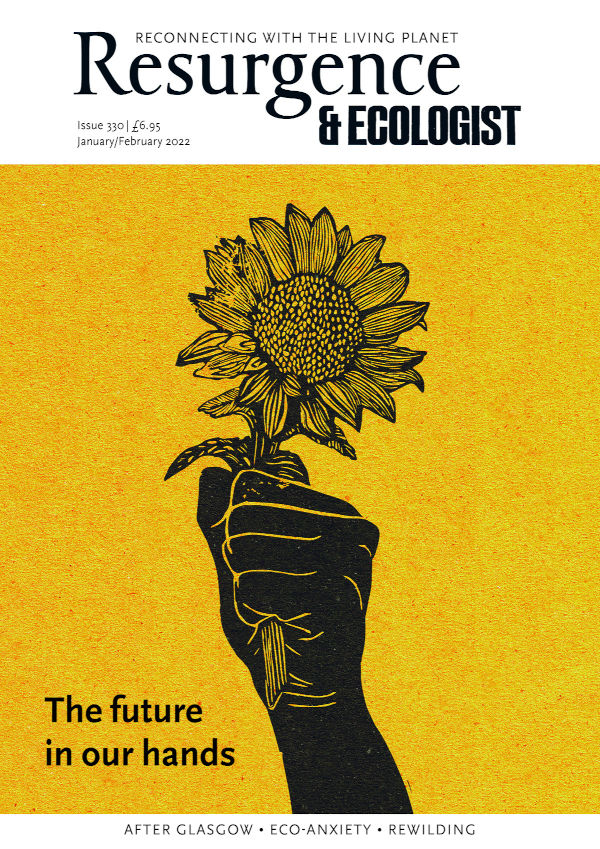 Buy a print copy of this issue for £6.95 plus p&p
Resurgence & Ecologist offers positive perspectives on a range of engaging topics covering ecology, social justice, philosophy, spirituality, sustainable development and the arts - an eclectic mix that cannot be found anywhere else.
Published bi-monthly, each beautifully illustrated issue contains feature articles by respected writers, news from the frontline of the environmental movement, ideas on ethical living, book reviews, recipe columns, humour, poetry and arts profiles. Past contributors include Margaret Atwood, Michael Morpurgo, Antony Gormley, Rowan Williams, Vandana Shiva and Polly Higgins ... the list goes on.
Resurgence & Ecologist is now firmly established as essential reading throughout the environmental movement. Resurgence & Ecologist is enjoyed by people from all walks of life including environmentalists, politicians, business leaders, academics, activists, teachers, writers and artists.
Resurgence remains one of the best antidotes to the superficial banalities and mindless materialism that grips contemporary society.
Jonathon Porritt
Become a member and receive 6 issues a year
Featured articles from the latest issue of Resurgence & Ecologist magazine
Picture Credits
Cover image: Sunflower, linoprint by Rosanna Morris: ; Banking on Our Future: Photographs courtesy of Coal Action; Express Connection: Artwork by Seán Fitzgerald; Free Wheeling: Illustration by adams carvalho; The Wasp Lesson: Illustration by Xuan Loc Xuan; Connecting our Landscape: Isabella Tree by Francesco Guidicini; Three Steps to Change the World: Artwork by Molly Lemon.