Resurgence & Ecologist Magazine
Resurgence remains one of the best antidotes to the superficial banalities and mindless materialism that grips contemporary society.
Jonathon Porritt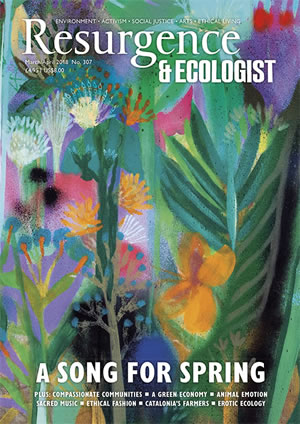 Resurgence & Ecologist offers positive perspectives on a range of engaging topics covering ecology, social justice, philosophy, spirituality, sustainable development and the arts - an eclectic mix that cannot be found anywhere else.
Published bi-monthly, each beautifully illustrated issue contains feature articles by respected writers, news from the frontline of the environmental movement, ideas on ethical living, book reviews, recipe columns, humour, poetry and arts profiles. Past contributors include Margaret Atwood, Michael Morpurgo, Antony Gormley, Rowan Williams, Vandana Shiva and Polly Higgins...the list goes on.
Resurgence & Ecologist is now firmly established as essential reading throughout the environmental movement. Resurgence & Ecologist is enjoyed by people from all walks of life including environmentalists, politicians, business leaders, academics, activists, teachers, writers and artists.
Feature articles

Concern Over Wireless Technology
Lynn Wycherley reports on growing concerns over the impact of wireless technology on health including on fertility, immunity, heart disease and cancer. States in the US are leading the way on legislation aimed at protecting public health.
Read full article...

A Shared Path to a Flourishing Food System
Philip Lymbery, CEO of Compassion in World Farming, explains the link between factory farming and wildlife decline. He urges us to act now to end factory farming before it's too late and encourages us all to embrace a plant based diet.
Read full article...

Compassion is the Best Medicine
The NHS in the UK is under massive stain. One project, Compassionate Frome, is tackling some of the problems at source, by addressing loneliness and isolation in the local community and reducing Hospital admissions in the process.
Read full article...

Making Fashion a Force for Good
People have come to expect cheap clothes, but increased awareness about the fashion industry, the working conditions of those who make clothes and the methods of production have led to demands for change. It's time to embrace slow fashion.
Read full article...

We Need to Rewild the Novel
Gregory Norminton goes in search of fiction that places our connection with nature at its core. He reflects on rewilding as a vehicle for expressing the repressed wildness in our nature and suggests books to inspire a new wave of nature-based novels.
Read full article...

A Nourishing Read
Maddy Harland's book is a celebration of permaculture over 25 years and chronicles the shift in consciousness that she has witnessed. Intertwining personal stories with global events, Maddy recalls the highs and lows, the challenges, the activism and the inspiring stories at the foundation of this growing movement.
Read full article...
Want a sample copy?
If you've never seen the magazine, you can get a sample copy.