Resurgence & Ecologist Magazine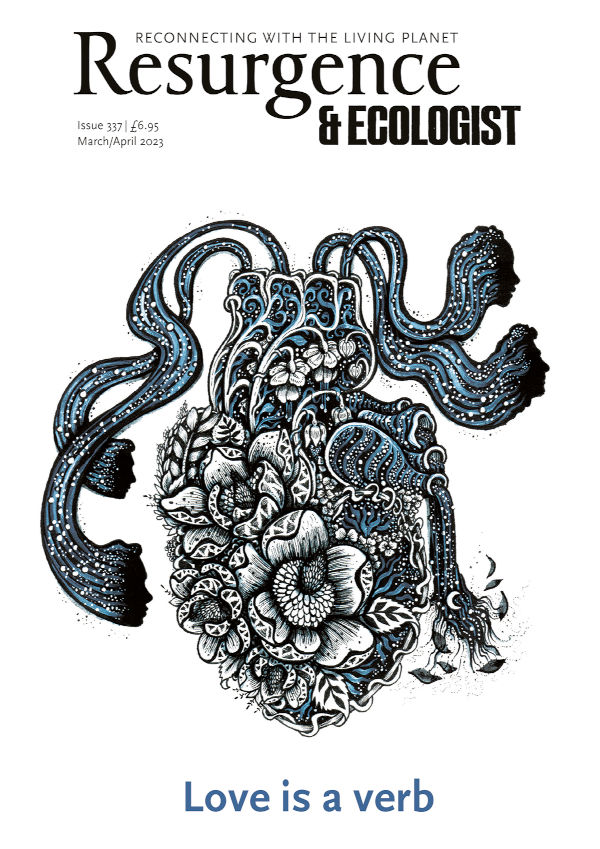 Resurgence & Ecologist magazine addresses the environmental, social, and spiritual challenges and opportunities of our time. It provides a voice for change that is driven not by fear, but by a love of the Earth and its many life forms. Recognising the interconnectedness of the crises we face; it seeks to inform and inspire a just and thriving future for all.
This beautifully illustrated, trailblazing magazine connects readers with a diversity of visionaries, exploring nature and ecology, food and farming, spiritually and philosophy, social and environmental justice as well as ethical living, wellbeing, and the arts - an eclectic mix that cannot be found anywhere else. Past contributors include Vandana Shiva, Phillip Pullman, Caroline Lucas, Deepak Chopra, Mya-Rose Craig, Thich Nhat Hanh, Louisa Adjoa Parker, Michael Morpurgo, Polly Higgins, George Monbiot, Isabella Tree, Noam Chomsky, and Gail Bradbrook...the list goes on.
Each much-loved, bi-monthly issues provides positive, progressive and alternative perspectives on the most pressing issues of today, whilst offering visions of a regenerative and harmonious future for all life. Fostering connection between mind and body, self and community, society and nature, Resurgence & Ecologist is an essential resource for all those that believe a better world is possible.
There is no other magazine that covers the issues of our times, with truth and beauty, with courage and creativity. Resurgence & Ecologist are sowing the seeds of hope, of freedom, of the joy of living.
Dr Vandana Shiva
Discover more
Archives
Buy
Become a member and receive 6 issues a year
Featured articles from the latest issue of Resurgence & Ecologist magazine
Picture Credits
Cover image: Artwork by Melpomeni Chatzipanagiotou @menis_art; Acting Now for People, Animals and Planet: Artwork by Elicia Edijanto; Tales of Urban Birding: Wormwood Scrubs at dawn © David Lindo; Choosing Yourself By Choosing Community: Artwork by Japneet Kaur @storyofaseed; The Qur'an of Nature: Stars of Mount Noor, 2019 by Elisabeth Deane; The Dataset's Dream: installation by Bryony Benge-Abbott, photo courtesy Ewelina Ruminsk; How Did We Get Here?: Illustration © Sophie Casson / Ikon Images.