Resurgence & Ecologist Magazine
Resurgence remains one of the best antidotes to the superficial banalities and mindless materialism that grips contemporary society.
Jonathon Porritt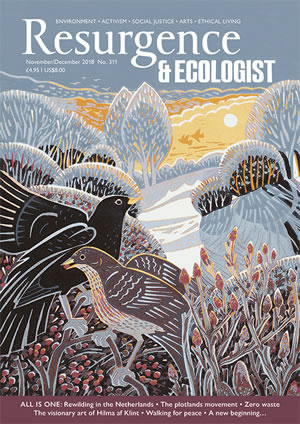 Resurgence & Ecologist offers positive perspectives on a range of engaging topics covering ecology, social justice, philosophy, spirituality, sustainable development and the arts - an eclectic mix that cannot be found anywhere else.
Published bi-monthly, each beautifully illustrated issue contains feature articles by respected writers, news from the frontline of the environmental movement, ideas on ethical living, book reviews, recipe columns, humour, poetry and arts profiles. Past contributors include Margaret Atwood, Michael Morpurgo, Antony Gormley, Rowan Williams, Vandana Shiva and Polly Higgins...the list goes on.
Resurgence & Ecologist is now firmly established as essential reading throughout the environmental movement. Resurgence & Ecologist is enjoyed by people from all walks of life including environmentalists, politicians, business leaders, academics, activists, teachers, writers and artists.
Feature articles

Making the Case for Going Green
Hugh Fearnley-Whittingstall is a man of many passions: good food, less waste, healthier people, thriving Nature and an end to human cruelty to animals. Oliver Tickell meets him and finds out what connects these many passions.
Read full article...

Keeping Them Sweet
Bees are central to our future, but they face a complex array of threats and challenges - mostly the result of human activity. Miriam Darlington meets Matt Somerville, a beekeeper with a passion for natural beekeeping and belief that the bees will survive.
Read full article...

How to be a Good Forager
If you enjoy food and love spending time outdoors then foraging is a doorway to knowledge and deep connection with Nature. Kate Blincoe shares the joy of wild food gathering and a recipe for Puffball Mushroom Pizza. Enjoy!
Read full article...

Poet by the Sea
Continuing our new short story feature, we share Ben Okri's delightful tale of a poet wandering by the sea - 'Time to leave the deep. Time to Wander among the debris of human dreams', from The Magic Lamp: Dreams of Our Age, published by Apollo.
Read full article...

Don't Call Me Cupcake
Healthy eating for children is a hot topic and childhood obesity is on the rise. Sarah Ockwell-Smith wants to tackle the problem at source - by teaching parents about raising healthy eaters - and the solution is not what you think!
Read full article...

Earth, Hands, Mouth
As regular readers will know, our former Editor Satish Kumar has always been passionate about good food. In his regular column 'Choices' he explains why learning to grow, to cook and to eat together is as important as learning to read and write. Plus, we introduce our first podcast!
Read full article...

Zen and the Art of Seeing
"At every moment in our lives we have a choice. We can be present in the moment and all that it contains, or we can stay in our usual distracted, often self-centred state of being." Embracing Zen practice can create a positive, life-affirming attitude - resulting in powerful, expressive work, as photographer David Ulrich explains.
Read full article...

Our Vanishing Pleasant Land
Michael McCarthy reviews 'Our Place: Can We Save British Wildlife Before It Is Too Late?' - a book that explores intensive farming, the successes and failures of conservation, and the role played by environmentalist who couldn't quite explain the urgency of the problem.
Read full article...
Want a sample copy?
If you've never seen the magazine, you can get a sample copy.