Resurgence & Ecologist Magazine
Resurgence remains one of the best antidotes to the superficial banalities and mindless materialism that grips contemporary society.
Jonathon Porritt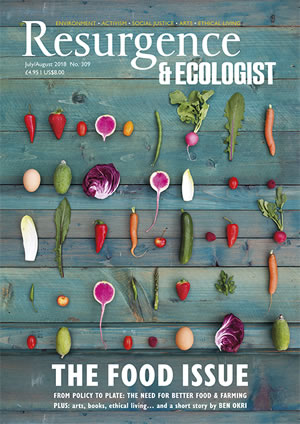 Resurgence & Ecologist offers positive perspectives on a range of engaging topics covering ecology, social justice, philosophy, spirituality, sustainable development and the arts - an eclectic mix that cannot be found anywhere else.
Published bi-monthly, each beautifully illustrated issue contains feature articles by respected writers, news from the frontline of the environmental movement, ideas on ethical living, book reviews, recipe columns, humour, poetry and arts profiles. Past contributors include Margaret Atwood, Michael Morpurgo, Antony Gormley, Rowan Williams, Vandana Shiva and Polly Higgins...the list goes on.
Resurgence & Ecologist is now firmly established as essential reading throughout the environmental movement. Resurgence & Ecologist is enjoyed by people from all walks of life including environmentalists, politicians, business leaders, academics, activists, teachers, writers and artists.
Feature articles
Mission: Possible
Tony Juniper is a man with a mission 'to do for the natural environment what is finally happening with climate change - to attack the global wave of extinctions with the same focus.' Oliver Tickell meets him to find out more.
Read full article...

Redevelopment Makes New Waves On The River
Plans for the future of the canalised Los Angeles River have brought both praise and protest. Urban geographer, Bradley Garrett, considers the conflicting demands of ecological restoration and redevelopment.
Read full article...
Read This Slowly - It Could Save Your Life
For centuries people have turned to poetry in dark times. This is a timely invitation from Paula Byrne and Jonathan Bate to savour good literature and appreciate Slow Poetry - a concept that emerged from the slow food and slow living movement. Plus, you can enjoy our special audio feature on Slow Poetry.
Read full article...

It's More Than Simply Child's Play
Modern living doesn't allow much time for play. Aya Husni Bey looks at the importance of 'play' and the benefits it can have for wellbeing and mental health. She urges us to rediscover play that is fun, creative, and open-ended and embrace it in our everyday lives.
Read full article...
Where There's Life
Kate Davies asked her family and friends 'Are you hopeful about the future?' and was alarmed by their response. So began a search for answers and an exploration into the meaning of hope. She shares her thoughts and offers us a roadmap for 'Habits of Hope'.
Read full article...

Sound Effects
Artist Leah Barclay uses sound as a way to connect people more closely with the natural world and to inspire action on climate change. Her work includes taking the Amazon Rainforest up the Eiffel Tower as part of an Arts Activist Festival. Justine Reilly meets her to find out more.
Read full article...
Want a sample copy?
If you've never seen the magazine, you can get a sample copy.