A PHILOSOPHICAL GIANT
Donate Now
Issue 243

Jul/Aug 2007
The Point of Return
Reviews
A PHILOSOPHICAL GIANT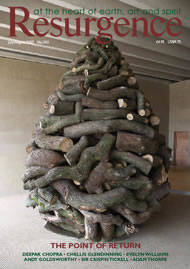 Cover: Stacked Oak, by Andy Goldsworthy, using branches left over from locally felled trees Courtesy: Yorkshire Sculpture Park
Of Myself: Atmaparichay Rabindranath Tagore Anvil Press Poetry, UK, 2006, £8.95
ATMAPARICHAY WAS FIRST published in 1943. It consists of six essays written by Rabindranath Tagore between 1904 and 1940. The essays themselves present a remarkable, complex picture of one of the great artists and philosophers of the last two centuries. It cannot be summed up easily. Tagore himself continues to elude the simple tributes of posterity. His prolific works as a novelist, playwright, philosopher, social critic, poet, painter and musician, as well as an educator and a human being, collectively overwhelm praise with a quiet poignancy that this acutely personal volume hints at.
Born fittingly in the year 1861 of Emily Dickinson's most famous lines "'Hope' is the thing with feathers | That perches in the soul | And sings the tune without the words | And never stops – at all", Tagore grew up in a fading mansion on the outskirts of Calcutta, speaking a language that seemed to many to be dying. Yet Bengali is unquestionably one of the richest, most poetic languages left on Earth. When Tagore was honoured with the Nobel Prize for Literature in 1913, he was the first from a non-Western country to receive it, bringing India and Bengal into international focus.
I was astonished, recently, whilst touring the twenty or so better bookstores of Paris, to find not one store manager who had ever heard of Romain Rolland. Not one bookstore that carried a single work of Rolland's. Like Tagore, Rolland received the Nobel Prize for Literature, in 1915, and was a close friend of Gandhi (Rolland wrote a biography of the then struggling social revolutionary). Whereas a small museum in the Burgundian town of Clamecy marks the birthplace of Rolland, the town's most famous son, with a modest room of memorabilia, Tagore is the most universally recognised literary, artistic and philosophical giant of the last 150 years of Indian history. The national anthems of both India and Bangladesh have Tagore's signature attached. His thousands of songs, poems and other writings have done for Asia, and the world, what few others have ever achieved single-handedly: a comprehensive overview of what it is to be a poet, an artist, grappling with Nature and with God.
In Tagore's case, the struggle is not for himself, but on behalf of his country and his species. If anything, Tagore does not consider his own ego to be separate from that of his countrymen, or his nationality. While his work obsesses on his own neologism, jibandebata ('life-god'), on forest retreats at old age (which was fifty in his day) and on his 'kinship' with biodiversity, his most passionate concern, as it emerges in the pages of Atmaparichay, is that readers understand that he "will not insult the honour" given to him (read: countless tributes, honours, prizes, public testimonials) "by using it as material for my ego".
This question of ego looms large in so massive an intellect and Tagore devours the topic, ironically: "'Know thyself' is not the final truth; 'let thyself be known' is also of great importance," he writes in his third essay, a response in 1917 to a critic who took on his various religious writings. This gregarious quality of Tagore rejects the notion of a reclusive life, and Joardar and Winter, the translators of this book, have captured a robust, unabashed, open-book style at once confessional and tantalising. Other translators of Tagore – from Gide and Neruda to Pasternak – have brought a force of nature with them. But that enormity in one person is absent here, in what is clearly a faithful, sensual and heartbreakingly honest translation. Here, the true naturalist that was Tagore reflects on his most turbulent of times with steady hand and a confidence that will leave the reader deeply embedded.
Tagore's many descriptions of his growing self-confidence as a poet are an entire lesson in the ethos and spirituality of South Asia. His reminiscences of Calcutta in the 19th century are a study in social geography that is luminous. And his remarks about fame, greed, technology and "speed" in the 20th century are among the most acutely felt and trenchantly observed ecological criticisms of our age one is likely to ever encounter.