NOAM CHOMSKY
Donate Now
Issue 240

Jan/Feb 2007
There is no wealth but life
Regulars
Visionaries
NOAM CHOMSKY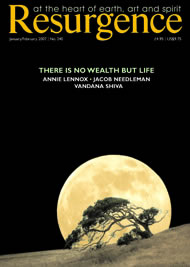 Cover: Windswept live oak and rising full moon Photograph: Diane Miller/Monsoon Image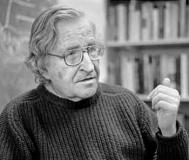 Professor Noam Chomsky Photograph: Philip Jones Griffiths/Magnum
BORN IN 1928 in Philadelphia, to Russian immigrant parents, Noam Chomsky was brought up in a tough Irish and German neighbourhood. At an early age he was sent to a Deweyite experimental school where children were encouraged to learn for learning's sake. He responded amazingly well and at the age of only ten he wrote an essay on the Spanish Civil War, which was published in his school's newspaper.
Just a couple of years later Chomsky expanded his political horizons through regular visits to his mother's relatives in New York, where an uncle operated a small newspaper street kiosk which was a magnet for all kinds of émigré intellectuals, including Jewish anarcho-syndicalists who published a radical newspaper called Freie Arbeiter Stimme, to which the legendary anarchist writer and activist Rudolf Rocker contributed articles. Reading and discussing such material –
supplemented by similar fare from libraries – young Chomsky quickly developed into an expert on political thought and philosophy. He had the shock of his life when he moved to the local high school, which was run along the traditional lines of narrow-minded education by way of indoctrination, but he emerged relatively unscathed when he graduated at the age of sixteen.
When the Second World War came to an end and the bombing of Hiroshima and Nagasaki changed the world for ever, Chomsky, as a profoundly engaged teenager, enrolled at the University of Pennsylvania, taking a general course in philosophy, logic and languages. He continued to live at home, earning his keep by teaching Hebrew classes at the Jewish college where his father, a noted Hebrew scholar, had risen to be principal.
University was a disappointment for the young man as it was more or less a continuation of the high-school model. Given his extended family's total immersion in Jewish culture, both orthodox and radical, Chomsky began to seriously consider taking the path of many a young Jewish man and go to Palestine and contribute – in his and his political circle's case – to building a nation where Jews and Arabs might co-exist peacefully according, if possible, to anarcho-syndicalist ideas. At university Chomsky had come across a professor of linguistics, Zellig Harris, who was very influential in the radical Jewish organisation Avukah, which advocated such anti-Zionist development for Palestine. As fate would have it, Chomsky also studied linguistics. What is language? How do we acquire it? How does it work? Linguistics diverted Chomsky from going to Palestine, as did something else: he began dating his childhood friend Carol and they were married in 1949.
The young couple continued to think about going to Palestine, but Chomsky became so immersed in the subject of linguistics that it became his major subject for his bachelor's and master's degrees. Chomsky the extraordinary linguist was being born. A small number of academics recognised his talents and he was given a
fellowship at Harvard, where he began to develop his own brand of linguistics. The fellowship included a travel grant and in 1953 he and his wife visited Europe and Israel. This left a deep impression on both of them, especially seeing the huge gap between a very affluent USA and a Europe that was still war-torn. They loved their time on a kibbutz in Israel, but Chomsky's political sensitivities were severely tested by his encounters with dogmatic adherence to various political ideologies, whether Stalinism or Zionism, as well as the emerging racism directed at the local Arabs.
BACK HOME IN Boston Chomsky was offered a job at the Massachusetts Institute of Technology (MIT), then and now one of the world's most prestigious universities. Given a free hand amongst a faculty of applied scientists, Chomsky set forth to establish a department of Linguistics and Philosophy which in time became one of the most progressive and innovative linguistic research centres in the world.
Chomsky and his co-workers (both colleagues and students) revolutionised linguistics by moving from 'describing' languages to 'explaining' language per se. A series of highly technical books by Chomsky became the hallmark of 'Chomskyan' linguistics, culminating today in a vast body of work that explains universal grammar, how language is acquired, and how a biological language capacity underpins human facility with languages. The academic establishment the world over, tried its best to suppress such heretical theories, but, like Galileo's 'flat Earth' opponents, they had to concede eventually that Chomsky was possibly right in his findings.
In the meantime Chomsky's youthful political education had not stopped. When he started out at MIT, the Vietnam War was developing into its most ugly phases. Chomsky made a decision to become a political activist by engaging in dissent, and by organising opposition to the war. In 1967, together with a group of like-minded people, he founded RESIST, an organisation that called upon "all humankind of good will to join us in this confrontation with immoral authority". RESIST and others organised various anti-war demonstrations, and in the same year Chomsky was arrested and thrown into jail, where he ended up with Norman Mailer as a cellmate. Undaunted by his time in jail, Chomsky continued to organise rallies and give talks. His notes for such speeches were published in 1969 as American Power and the New Mandarins, which remains a classic of political dissent. Chomsky also ended up on President Nixon's infamous hit list of political enemies, but again it did not deter him from his path of speaking the truth. He visited Hanoi in 1970, but unlike Jane Fonda he never regretted his support for the North Vietnamese.
To this very day, now in his late seventies, Chomsky does not shirk from going to places that official US foreign policy declares out of bounds, such as Cuba or a recent meeting with a Hezbollah leader in Lebanon. Chomsky's fierce criticism of US
foreign policy is legend by now. His latest book, Failed States, makes the point that successive US governments have been involved in, and are now engaged in, state terrorism.
People who care about the world and its inhabitants have long recognised Chomsky as a visionary and a man of the people. As an eminent scientist with a social conscience he embodies the tireless academic worker – with a vast output of high-quality work – who reluctantly sacrificed his private life for a public one in order to make the world a better place. In that sense he is also a committed conservationist, and this is expressed in his deep concern for the natural environment, especially in his more recent work. That he is vilified as public enemy number one by political and economic reactionaries comes as no surprise, but it is a heavy price to pay. His good-humoured acceptance of such a fate should inspire us all.
Wolfgang B. Sperlich is a linguist, education activist and writer. He is author of Noam Chomsky (Reaktion Books, 2006, £10.95).