LAND'S END
Donate Now
Issue 240

Jan/Feb 2007
There is no wealth but life
Reviews
LAND'S END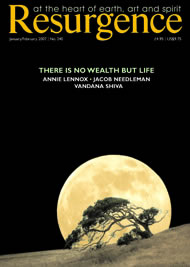 Cover: Windswept live oak and rising full moon Photograph: Diane Miller/Monsoon Image
Painting at the Edge: British Coastal Art Colonies 1880-1930 Edited by Laura Newton Sansom & Company, UK, 2005, £24.95 Making Waves: Artists in Southwold Ian Collins Black Dog Books, UK, 2005, £30.00
TWO BEAUTIFULLY illustrated new books explore art created on the ocean's cusp – and sometimes at the margins of perception itself. Painting at the Edge is an invigorating study, by several authors, of eight diverse art colonies in far-flung reaches of the British Isles during the period 1880–1930, when, on the whole, a mutually respectful relationship developed between fisherfolk and their urbane portrayers. Ian Collins' Making Waves evokes the artistic abundance of one modern art colony, Southwold (along with nearby Walberswick) on the Suffolk coast, which has attracted such marvellous artists as Philip Wilson Steer, Charles Rennie Mackintosh and Stanley Spencer.
As the great industrial cities of late-Victorian Britain became mechanised and murky with pollution, many artists sought inspiration and picturesque subject matter in the clear light and wild atmospheres of various fishing villages or farming communities by the sea. Ironically, it was the new railways that made nascent coastal art colonies in places such as St Ives in Cornwall and Staithes in Yorkshire more accessible to sophisticated city escapees.
To visit today two of the main art colonies discussed in Painting at the Edge – St Ives and Staithes – is to be reminded of the spectacular natural beauty and scintillating light (one almost Mediterranean in clarity, the other with a piercing North Sea subtlety) that attracted artists. However, in both places there are now, sadly, only dim remnants of the fishing communities that, a century and less ago, thrived there. Ruthless over-fishing has killed off a mainstay of artistic subject matter. To wander Staithes' winding, gull-loud streets – sheltered by high cliffs with vast moors beyond – is to imbibe something of the atmosphere that inspired Laura and Harold Knight a century ago, and the more poignantly so since this beautiful village has not yet been sprucely over-prettified. The new commercial Staithes Gallery is just about the only reminder that this was once a thriving art colony.
In contrast, St Ives now has its own Tate Gallery, preserving its splendid 20th-century cultural heritage – notably the ceramics of Bernard Leach and a few examples of the raw yet intuitively sophisticated paintings of a native genius, the self-taught painter Alfred Wallis, and the modernist painters he so liberatingly inspired in the late 1920s, Christopher Wood and Ben and Winifred Nicholson. The one failing of Painting at the Edge is that it devotes too little attention to Wallis's benign (though, on his part, entirely unconscious) influence at this period. It was Wallis – elderly retired
fisherman and former rag-and-bone-man – whose works (on odd scraps of discarded card) reminded his cultured contemporaries that art can be pristine, spontaneous and childlike yet also radically exploratory and self-assured.
TURNER HAD EARLIER on sketched and painted at many coastal spots, such as St Ives and Southwold, but it was only around the 1870s – succoured by the contemporary example of French art colonies on the Brittany coast – that cosmopolitan British artists began to set up studios in such seaside spots as Newlyn and Lamorna in Cornwall, Cullercoats in Northumberland, and Cockburnspath and Kirkcudbright in Scotland. Alexander Stanhope Forbes – whose 1885 painting A Fish Sale on a Cornish Beach depicts rather meditative fisherfolk amidst the sensuality of fresh-caught fish on glistening sand – said of Newlyn: "Here every corner was a picture and … the people seemed … to harmonise with their surroundings." Both dangerous and serene seas, the fertile ocean as well as maritime disasters, epic coastlines, awe-inspiring variations of light and weather, the natural dignity and vulnerability of poor fisherfolk – such daily intimacy with raw nature gave many academic late-Victorian painters their first real contact with the quick of life.
Philip Wilson Steer's late-19th-
century pictures of small children paddling, playing and lazing on the beach at Walberswick deliciously evoke playful figures at one with elements of sparkling sea and luminously observed shingle. Stanley Spencer's panorama of a section of the beach at Southwold (1937) similarly enchants with its fine, lucid attention to intricacies of shallows and pebbly beach – but also its movingly mundane details of bathing costumes and towels drying on a line, and bathers on stripy deckchairs reading the papers and protected by wind-breaks.
The painter Mary Newcomb has always been imaginatively attuned to the clear light and empty expanses of coastal East Anglia, where she has lived for many years. Making Waves illustrates a pair of 1983 oils portraying a tern diving into the still centre of a whirlpool for fish and then feeding its young perching on a green harbour post. It is at land's end that the human imagination finds itself free truly to soar above, hover over and plummet the deep.
Philip Vann is author of Face to Face: British Self-Portraits in the Twentieth Century.