WORKING FOR CHANGE
Donate Now
Issue 240

Jan/Feb 2007
There is no wealth but life
Reviews
WORKING FOR CHANGE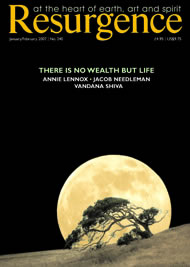 Cover: Windswept live oak and rising full moon Photograph: Diane Miller/Monsoon Image
for those seeking an ethical working life. The Ethical Careers Guide Gideon Burrows (Editor) ngo.media ltd, UK, 2006, £7.99
FOR THOSE OF us seeking an antidote to the modern disease of meaningless work and empty consumption, this book provides a timely intervention. With nearly two hundred pages of ideas, interviews, useful websites and addresses, it covers just about every potential ethical career one could choose to embark upon.
The book is split into sections dealing with different aspects of ethical work, from international aid and social care to arts and creative projects. Within these chapters are in-depth interviews and longer features covering the issues involved in working in that particular sector, along with short interviews with individuals from a range of different careers. The specific job titles covered range from activist media producer for Undercurrents to investment manager for Triodos Bank.
It is interesting to note that the editor acknowledges in his Foreword that exactly what 'ethical' means is never defined, and that the writers themselves don't always agree. The broad approach taken to the issue of what is ethical might be questioned by some, especially those of an avowedly anti-capitalist persuasion. However, this ambiguity works in the book's favour, avoiding the trap of preaching 'the ethical life' and challenging the typical notion that ethical work involves some kind of sacrifice on the part of the employee. Overall it makes it far more likely that anybody picking up this book will find something that will interest them.
Included in the book are two additional sections. The first, 'Work To Live', looks at working in social enterprises, and the second, 'Making Places Work', covers regeneration and creating sustainable communities. Both highlight areas of expanding employment in greater depth, following the same format as the rest of the book. Also covered, but in less depth, are areas such as science and law – both much maligned career paths, yet both with huge possibilities for the potential ethical worker. Finally, the resources section contains an extensive list of organisations' addresses and websites for further research.
Primarily aimed at younger people taking their first steps on the path to future careers, a copy of this book placed in the library of every educational establishment would be money well spent. It could act as a beacon of hope in what to many schoolchildren and university students appears to be the bleak future of working life. As for those of us already living that bleak future, there is nothing to stop it being a guide for the inspiration to change direction.
Dan Grace is a part-time local food co-ordinator for a social enterprise, and a freelance writer and researcher.