WE PROTECT WHAT WE LOVE
Donate Now
Issue 240

Jan/Feb 2007
There is no wealth but life
Reviews
WE PROTECT WHAT WE LOVE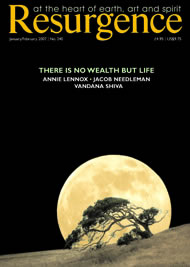 Cover: Windswept live oak and rising full moon Photograph: Diane Miller/Monsoon Image
Spring Nature Activities for Children andAutumn Nature Activities for Children Irmgard Kutsch and Brigitte Walden Floris Books, UK, 2006/2005, £12.99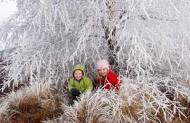 Children enjoying a hoar frost, near Twizel, South Island, New Zealand. Photograph: David Wall/Photo
TELEVISION, COMPUTERS, the weather, safety – the list of what keeps our children indoors is very long. Gone are the days of children roaming across open countryside all day, only appearing when hunger or darkness prompt them. Without this free and easy access to their natural environment on a daily basis, how can we expect our children to grow up to be truly ecologically conscious? The activities in these books will certainly provide those who are living or working creatively with young children with plenty of opportunities to plant the seeds of ecological consciousness.
These two Nature Activities for Children books form half of a projected series of four books, one to cover each season. Irmgard Kutsch and Brigitte Walden have drawn on their experiences as teachers and as founders of the Children's Nature and Garden Centre in Reichshof, Germany to introduce ideas for practical activities to those working with young children, as well as providing an insightful view of humankind's place within the cosmos and suggesting ways to help children to feel truly part of their environment. The authors display a deep understanding of child development and the important role that high-
quality sensory experiences play within healthy development.
The books are organised in monthly sections to help us to time our activities appropriately. Most of the activities are intended to be accessible to those of us with limited practical skills, though some of the larger-scale landscaping or willow structure projects may require some expertise. What sets the books apart is the imaginative quality of the projects, which range from landscaping ideas to apple-ring drying, from beekeeping to papermaking, so we are helped to create a rich outdoor environment with our children and then given lots of ideas for
interesting things to do out there – plant-dyeing, fruit and vegetable growing, and so on. Each project is profusely illustrated with a range of photographs, diagrams and drawings and is accompanied by plenty of background information, stories, poems and some songs relevant to the season or activity, including suggestions for getting the children to be practically involved as much as possible.
The authors point out that the books are intended to be used in a wide range of educational settings – from Steiner Waldorf to state primary to Montessori schools – and with children of all abilities.
Our children's relationship with the environment will surely be enriched through trying some of these projects, and, as the authors point out, "We protect what we love."
Araminta Greaves leads Periwinkles, the Kernow Steiner Project's Parent and Child Group.