Changing Money for Good
Donate Now
Issue 276

Jan/Feb 2013
The Tipping Point
Frontline
Changing Money for Good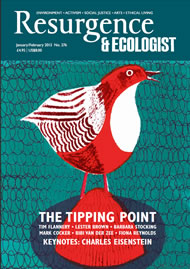 Cover: Dipper, screen print by Kittie Jones www.kittiejones.com
The Bristol Pound – money for people, not profit.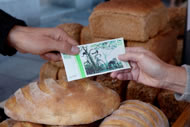 © Mark Simmons Photography
Communities all over the world are addressing the corruption that is endemic in financial institutions by taking back the power that was once vested in banks and building societies and setting up their own local currencies. This is nothing new: local currencies have thrived for decades and have run successfully in parallel with national legal tender. The true wealth of local currencies lies in the fact that they keep money circulating within a given area, without leaking out to faceless corporations with offshore bank accounts that never pay taxes. Local currencies are springing up all over the place, most notably in Greece, where, out of the ashes of the Eurozone crisis, people in the city of Volos have begun a local exchange trading system that has been described as "bartering on steroids"!
In Bristol, over 1,000 individual users and 400 businesses have signed up to the Bristol Pound (£B), a newly launched local currency that, it is hoped, will reinvigorate what is already a creative and dynamic city. Bristol is unusual in that 70% of its retail businesses are independent, and this is what keeps its shopping streets thriving and full of diversity despite the financial gloom that has settled on the bigger chain-store rivals. This independence allows traders to introduce Bristol Pounds to their customers in the knowledge that they are likely to come back to their shops time and again in order to spend them. Many shops offer 10% off if you pay in Bristol Pounds, and students get 10% discount when they exchange sterling for them.
Accounts can be accessed online just like ordinary bank accounts, and payments can even be made by text from a mobile phone. There are security checks in place so that fraud is kept at an absolute minimum, and Bristol Pounds can be redeemed for sterling at the Bristol Credit Union. The Bristol Pound directory lists all the local businesses that accept the currency.
One look at the Twitter feed on the Bristol Pound website shows just how excited local people are to help boost their economy in this way: "Look how beautiful the currency is in Bristol. I'm just loving it!" or "Spend the £B – it's like money only better: local money for local people for local politics."