Personal and Political
Donate Now
Issue 276

Jan/Feb 2013
The Tipping Point
Reviews
Personal and Political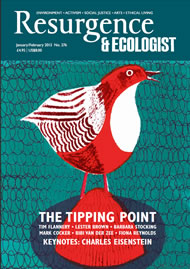 Cover: Dipper, screen print by Kittie Jones www.kittiejones.com
Geoff Mead learns more about why the art of storytelling still matters. Our Secret Territory: The Essence of Storytelling by Laura Simms. Sentient Publications, 2011. ISBN: 9781591811725 Words of Re-Enchantment: Storytelling, Myth, and Ecological Desire by Anthony Nanson. Awen Publications, 2011. ISBN: 9781906900151
Both of these excellent books are collections of mostly previously published articles by prolific storytellers (and writers about storytelling) on aspects of their craft – and ways in which it can enrich our lives and help to bring us into a more harmonious relationship with the world around us. Although sharing an apparently common agenda, they go about fulfilling it in quite different ways.
American Laura Simms, who describes herself as a storyteller, writer and humanitarian, writes straight from the heart, her text living up to the image of a corazón en llamas ('heart in flames') on the front cover. She tells of her early experiences as a storyteller in New York's public places and how her love affair with story – and her belief in its power to heal divisions – has taken her to many of the world's trouble spots: sharing tales with dispossessed Gypsy women in Romania; performing in a bomb-torn sector of Jerusalem; travelling to Sierra Leone to bring her adopted son Ishmael Beah (a former child soldier) home; telling stories to traumatised children in a New York schoolroom hours after a murder had been committed in the schoolyard.
But the book is much more than a memoir: Simms has woven in a myriad of traditional stories and threaded one long tale (The Hen and the Rooster) through all the chapters. The text is full of quotations, opinions and pearls of wisdom garnered from a lifetime of storytelling; it meanders along like a river finding its own course. Simms says: "This is not a book about method or analysis; it is a series of invitations to explore my journey, from sensing the power of storytelling to discovering how it can serve as a tool for compassionate service in the world." The book is much like its author: passionate, opinionated and wise.
If Laura Simms' book stirred my heart, then Anthony Nanson's stimulated my thinking. As a professional author and teacher of creative writing, he writes intelligently and provocatively about a range of significant issues in a series of essays divided into three themes: the nature of myth and mythic patterns, from the ancient world to modern science fiction; the possibilities and potential of storytelling as a performance art; the role of "ecobardic" storytelling in confronting and meeting the environmental challenges of our time.
Gloucestershire-based Nanson's is a more detached voice, consistent perhaps with the classical landscape adorning the cover of his book. He skilfully teases open such knotty issues as whether storytellers are entitled to tell (or appropriate, as some would say) stories that come from Indigenous peoples; the arguments for and against the accreditation of storytellers; how storytelling can help to re-enchant our relationship with the natural world. His intellectual grasp of these matters is leavened by welcome references to his own life and storytelling adventures. His is a book to dip into, to read carefully and to think about deeply.
In their own ways, Simms and Nanson each show us that storytelling is both personal and political. Stories can nourish both teller and listener – and they can make a difference in the world. The poet and novelist Ben Okri says: "Stories are the secret reservoir of values: change the stories individuals and nations live by and tell themselves and you change the individuals and nations."
I have two copies of each of these books: one set for reference on my office bookshelves, and another set for regular inspiration on my bedside table. I recommend them unreservedly for anyone interested in exploring the world of the storyteller and why storytelling still matters.