The Transition Experiment
Donate Now
Issue 280

Sep/Oct 2013
A Green Manifesto
Ethical Living
The Transition Experiment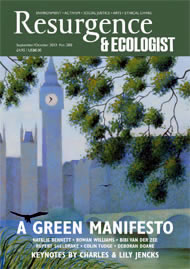 Cover: Painting by Anne Currie www.annecurrie.com
Bibi van der Zee meets Rob Hopkins, who has devoted himself to building more resilient communities.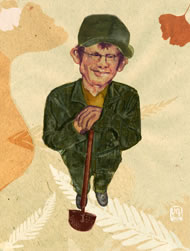 Rob Hopkins by Valerie Pezeron www.valeriepezeron.com
It's a little hard to believe that this scruffy Totnes office, shared with the local LibDem party, is HQ of an international movement. There are 10 different types of herbal tea on offer, maps and postcards on the walls, and a little diagram demonstrating ways of signalling your agreement at meetings (the 'jazz hands' technique so beloved of Climate Camp).
Colleagues with no sign of the desperate self-importance you might be expecting pop their heads around the door while we talk, thinking they're supposed to be having a meeting. Rob Hopkins himself wanders along in a worn shirt with a terrible cold. Is this lanky, slightly diffident man really the architect of a movement that has been dubbed "a flotilla of life rafts" by US environmentalist Bill McKibben?
Well, yes. In 2004, after a few years of road protesting, followed by travelling in Pakistan and then a green degree in Bristol, Hopkins had been teaching permaculture in Kinsale, Ireland, but was growing increasingly concerned about climate change and peak oil. "We were building this cob house and growing our own food and composting everything and planting lots of trees," he recounts, "but then with peak oil it felt like it wasn't enough. It was all off up some little lane somewhere, and all the stuff we'd been doing needed to go mainstream a hell of a lot quicker, and it wasn't going to go mainstream if we were just stuck up our little lane."
So he and his family relocated to Totnes, the South Devon town that already had a green reputation, and together with Naresh Giangrande he "started showing films and doing talks, awareness-raising stuff. And after a few months people started stopping us in the street and saying, OK, we get the peak oil bit, we get that, so then what happens?"
In November 2006 Hopkins and Giangrande organised an event they called The Unleashing. They thought it sounded intriguing. "We thought, just go for it, and booked the largest space we could get; we were expecting about 100 or so but 400 people turned up. And that was the beginning of Transition."
So what is Transition precisely? Hopkins says honestly: "Well, it's something different most days I'm asked," but after more thought he describes it as being about "community resilience and economic development". Which, happily, is almost exactly the same as what he has written in the first lines of The Transition Handbook: "Central to this book is the concept of resilience – familiar to ecologists, but less so to the rest of us. Resilience refers to the ability of a system, from individual people to whole economies, to hold together and maintain their ability to function in the face of change and shocks from the outside."
Hopkins followed up the initial gathering with a series of more focused meetings, and within just six months Totnes had eight different working groups looking at areas such as food, energy and housing. Moreover, it quickly emerged that there had been someone from Falmer and someone from Lewes at the initial meeting, and they had taken the Transition idea home and begun to set up local groups themselves.
"It started to spread incredibly quickly, and we were soon getting calls from Mexico and Japan and South Korea. For example, four women from Brazil came to one of our first conferences and they were saying, how do we do Transition in Brazil? And we said, well, what are you doing at the moment? And they start to reel off this list, and after about 20 minutes we said, we can't tell you anything – you're already doing it."
There are now 1,400 official Transition groups in 40 countries, but there are many more unofficial groups. "In Sweden, for example, there are about 10 official groups, but at least 170 actually in existence. That said, it's really important that Transition doesn't feel like the Coca-Cola franchise, or an English export."
Vitally, Transition – sustained by volunteers – also deals with personal resilience. Hopkins had seen at first hand the bitter toll taken on activists during the road protests. "I've seen so many activists burn out. It's really horrible, and they're driven by this terrible sense of 'Must keep going for the sake of the planet…' What kind of model is that?"
Permaculture, he says, had offered hope for him by taking the approach that you could repair the planet rather than trying to live up against the destruction. And with Transition he wanted to bring this same sense of the positive to more people. But he admits burnout was an early focus. "Totnes probably has more psychotherapists per square foot than anywhere else in the country, so the challenge that was put out to them quite early on was, how do you support a process like Transition? What does building personal resilience alongside community resilience look like?
"So we have a thing where anyone working in TTT [Transition Town Totnes] can get free mentoring and support, and this has been hugely useful – the therapists offer their time and expertise for free and you can have one session or several."
A lot of attention is also paid to making meetings work well. "I think of it as a social technology," says Hopkins. His new book, The Power of Just Doing Stuff, follows the Transition journey around the world and visits some of the projects that have been set up in the heady years since that initial meeting. He tells us about community gardens, a community grocery in Yorkshire, and community solar energy companies.
Abroad, Transition Bondi in Australia, for example, is "a hotbed of Transition goings-on, with regular movie nights, communal meals, beach clean-ups, 'verge gardens', community gardens, plus a regular stall at the local market". Portalegre em Transição, a transition town in Portugal, has come up with the Poiso (Portugese for 'perch'), a unit at the local indoor market that is used as a drop-in resource for Transition in the town. "It includes a costuroteca (which translates loosely as 'library of sewing'), a living room and swap markets, and has quickly become home to all manner of activities, including a community kitchen used for food preparation and preservation workshops, right in the 'nerve centre' of the community."
So where now? Onwards and upwards, hopes Hopkins. Peak oil may not have taken quite the form expected, but he argues that this is only because we're now moving into 'extreme energies' such as fracking, tar sands oil, etc. For him the necessity for Transition, for focusing on localism and local communities and economies, has never been greater, and the group's focus is increasingly on ways of getting that message out. "It's very much the live question for us all: how do we scale this up?"
Transition Totnes is currently working on the Atmos project, a plan that involves taking over a whole slew of disused buildings on the edge of Totnes and turning them into a mixture of housing and office space for social enterprise. "It's really interesting, because when we started to talk about Transition being about creating a new economy for Totnes – and catalysing social enterprise – a whole load of new people all came in who had incredible skill and expertise and who wanted to share that," says Hopkins.
But he admits he doesn't know where it's all going to end up. "It's an experiment," he says, unapologetically. "It's all an experiment: we're building models and seeing if they work." Which is, of course, the fundamental truth of the whole shebang.
The Power of Just Doing Stuff: How Local Action Can Change the World by Rob Hopkins is published by Green Books. www. transitionnetwork.org