Spiced Juniper Berry
Donate Now
Issue 281

Nov/Dec 2013
Protecting the Countryside
Ethical Living
Spiced Juniper Berry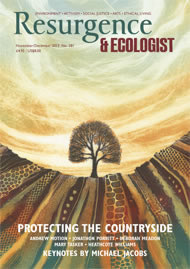 Cover: Sentinel, monotype by Rebecca Vincent www.horsleyprintmakers.co.uk
As the nights draw in, Susan Clark settles in for winter with a store of mulling syrup that captures the distinctive, old-English taste of juniper berries.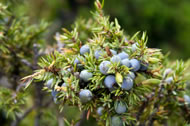 © brightstorm/www.istockphoto.com
Over the summer just gone, my husband ran a little pop-up tearoom in the church opposite where we live. Flouncy honeysuckle and leggy knapweed flowers spilled out from the jam jars on each table, and on the days that were fine enough to put a communal table outside, pebbles from the nearby beaches helped stop both the menu and the tablecloth from blowing off and away into the nearby Atlantic Ocean.
On rainy days, the tables were moved indoors and the sound of happy chatter echoed around the church, which on most non-service days (whenever I had stepped inside before) had been shrouded in that kind of silence that makes you feel you must whisper or make no noise at all.
My husband had all day to watch how people reacted as they stepped inside the church, the oldest parts of which were built as a monastery in 1050. Some, he said, looked intimidated. Some seemed joyous, and others marched up and down in a kind of cross 'I'm in charge here' busybody kind of way.
Every day the tearoom offered a plate of free sample fare with an invitation to "Try Before You Buy". And after just a few days of opening – come rain or shine – it was clear to all that the whole venture was taking on a magical life of its own. It was becoming a Happy Place where people sat either indoors or amidst the graves of those whose lives had passed all too quickly, to slow down, relax, enjoy something delicious to eat – including my husband's man-size homemade scones – and take the time to socialise and connect with whoever was at the next table or sitting opposite.
Summer seems like a dream now autumn too has been and gone, and here in the UK we find ourselves heading into the frosty and shortened days of the Yuletide season, but seeing how our little summer tearoom had helped bring our small community – and passing tourists – together, even for the shortest time, got me thinking (mulling) about the role of food in creating moments of magic that even complete strangers can share.
And that notion of sharing led me to choosing a simple mulling recipe for this seasonal end-of-the-year offering because, actually, you only ever mull to share.
Most people think first of mulling alcohol, but it's just as easy to mull a fruit juice. Apple is a good mulling alternative to cider; red grape juice can be mulled if you want to offer an alternative to red wine. But you can use this mulling syrup for so much more. For example, it makes a delicious spicy soaking liquor (instead of sherry) for the sponges at the base of the New Year's Eve trifle I make every December to celebrate the end of one year and the promise of the next, and it is also the perfect poaching base for either figs or pears, creating a simple and again, at this time of the year, seasonal dessert.
And if you invest in a few gift-style bottles that you can sterilise, label and seal, this mulling syrup also makes a great little gift when you are doing the rounds of relatives and making other visits over the holiday season.
The unusual botanical ingredient in this recipe is the juniper (Juniperus communis) berry, which, whilst native to Britain, is actually not a berry at all but the fleshy female seed cone produced by the plant. Although dried juniper is available all year round, it is a warming ingredient that is much more commonly used in the cold winter months, making it perfect for mulling. Plus it has a strong affinity for allspice and cardamom – both of which are traditional and better-known mulling spices, and both of which are also used in this simple syrup recipe.
One of the things I have learnt the hard way when working with good ingredients is that less really is more, and so whilst it is tempting to slip into heavy-handed seasoning, I try to be more restrained and make quite a light mulling syrup. (Use more sugar if you want yours heavier.)
The one thing I will guarantee is that the moment you start brewing this seasonal treat, someone will be sure to step into the kitchen and declare: "It smells like Christmas!"
Into the Kitchen –
Spiced Juniper Berry Mulling Syrup
Makes 500ml, but you can easily scale up these quantities to make more or adjust to suit your own taste
500ml water
50g granulated sugar
50g dark brown soft sugar (this helps give the syrup that rich dark bronze mulling colour that you want)
7 cloves, left whole
15 dried juniper berries, crushed
1 star anise
½ tsp allspice
½ tsp cinnamon
½ tsp cardamom
This syrup is very easy to make or adjust to taste. Mix all the ingredients in a saucepan and heat gently. Boil for 5 minutes, taking care to stir and not allow the bubbling liquid to spill over the top of the pan as it rises.
Lower the heat to a simmer and leave for an hour with the lid of the saucepan on. Cool, sieve the mix to remove the loose spices, and drain into sterilised bottles until you are ready to mull.
To make Juniper Spiced Mulled Cider
Just add 250ml spiced syrup to 500ml dry cider in a saucepan. Boil for 3 minutes and then simmer for half an hour. Leave on a low heat and serve in a warmed glass with a teaspoon of dark agave syrup for extra sweetness, and a single star anise and half a slice of baked orange for that twist of extra chic!
Vitality notes –
Juniper berries have strong diuretic properties and can help alleviate both water retention and bloating (which might be helpful over the holiday season). Like all herbs that fall into the category of 'bitters' or astringents, they can also help improve a sluggish digestion. For best results, use a tincture from your local health store – but avoid if you have a history of kidney problems.