Crossword
Donate Now
Issue 281

Nov/Dec 2013
Protecting the Countryside
Regulars
Crossword
Crossword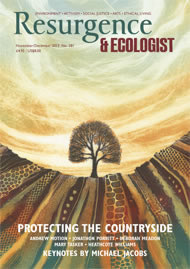 Cover: Sentinel, monotype by Rebecca Vincent www.horsleyprintmakers.co.uk
The Resurgence & Ecologist crossword, compiled by Timothy Bonsor.
Crossword for November/December 2013:
• Solution
Timothy Bonsor is a former civil servant, supporter of the Green Party and Friends of the Earth, and crossword fanatic. After retirement, he tried his hand at compiling crosswords, and now offers his work to an eclectic range of magazines. Here's what he says about Resurgence & Ecologist:
"I used to buy The Ecologist in magazine form, so was really pleased to see it resurrected with Resurgence, where I think the holistic blend works nicely. For Resurgence & Ecologist I want my puzzles to appeal to both sides of the house, and to be challenging but not daunting. Clues therefore are generally straight, although sometimes I can't resist a more oblique approach.
"I welcome your comments: mail me at ecores_crossword@hotmail.co.uk"