Last Plant Standing
Issue 282
January/February 2014
Benevolent Universe
Ethical Living
Last Plant Standing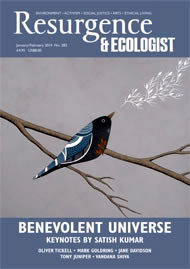 Cover: The Ghosts of Their Departed Leaves 4 © Natasha Newton www.natasha-newton.co.uk
Issue availability
Susan Clark pays tribute to the generosity of the humble dandelion plant.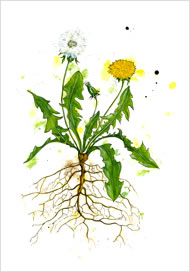 Dandelion by Emma Dibben www.emmadibben.com
A wise old herbalist once told me that dandelion plants love people so much they would, if they could, quite happily uproot to follow you home on your winter walk and march right into your house.
So I have to say I wasn't at all surprised to consult The Guardian Forager's Calendar for January and find the only plant left standing (as far as those of us foraging in the UK are concerned), is the humble dandelion.
Spring, summer, autumn and winter, this is the one plant that will still be jumping up and down shouting and waving "Pick me, pick me, pick me." (Pick as in choose.) And so in this, the most fallow of all foraging times, I would like to honour the plant's impressive persistence and cook something delicious that relies on dandelion for both its colour (green ribbons of dandelion leaf against the creamy yellow of the filling) and its slight bite.
And because even at a push you cannot really say this is a glamorous plant (its French name is pisse-en-lit, which, whilst aptly describing its medicinal benefits, is hardly a decorous or noble name to be going by), I am going to share the recipe for a very, very glamorous tartine, which I hope happily rewards the dandelion for struggling on through our long winters and offering all parts of itself as edible in one way or another to us two-legs.
Actually dandelion was one of the plants I most enjoyed drawing at one of the botanical art classes I attended recently, and the thing I liked the most was the plant's sheer exuberance – all raggedy-edged, tumbling and leggy-leafed showing-off, with the vivid yellow of the flowers somehow symbolic of the plant's big heart and smiling, sunny disposition. It makes me think (in a good way, in case she ever reads this) of one of my teenage nieces who is in that coltish stage between child and woman and who, whilst maintaining a veneer of cool, is also prone to outbursts of exuberant joy and uncool silliness, which is a real delight to be around.
So, back to the kitchen with my January-plucked dandelion leaves. In spring, we'd be harvesting the young shoots and tossing them (also exuberantly) into green shoot salads, but spring is still a way off and anything like a day warm enough to want to eat salad a distant dream, so I am going to make a fancy tartine (which is posh for small tart).
Now dandelion does not survive through to the winter months by being anything less than bold and this tart is not a shy one either. The luxury comes from the rich cream base and smoky paprika spicing, the wintry bite and dark green contrasting colour from the dandelion leaves, and the chopped walnut pieces. Actually I like to buy those bags of broken nuts – walnuts and others – aka damaged goods, which I feel kind of sorry for. Plus it saves the faff of chopping and, if doing so by hand, crawling around the kitchen floor afterwards looking for those fly away pieces that shot off under the fridge or into the cutlery drawer.
I am not going to give you a shortcrust pastry recipe here. You will probably already have your favourite and, if you are smart, keep a batch frozen in the freezer so that tart-making does not take half the day; instead, I'll just give you the recipe and how-tos for the dandelion and walnut filling.
You can make these tarts any size – I like making individual ones because I have pretensions of being on Masterchef, but you can just as easily adjust the quantities of ingredients and cooking time and make a family size one, or do the opposite and make teeny tiny party-size tarts. In fact, why not? There can't be a month in the year (February has Valentine's so is already taken care of) where a dandelion tart party would be more cheering or welcome...
And dandelion really would feel it has not only got itself into the house but done its most favourite job of cheering us all up.
Into the Kitchen
Oak-smoked Dandelion & Walnut Tartines
Makes 6–8 individual tartines
• A small bunch of freshly picked dandelion leaves, chopped into thin ribbon strips. (Use your common sense and don't harvest from those places favoured by dog walkers or passing slurry trucks!)
• 7oz/200g chopped and broken walnut pieces (if you are making the smaller, individual tarts chop the nuts into smaller pieces to keep them to scale)
• 6 eggs, beaten together
• 8 floz single cream*
• 6oz/180g oak-smoked cheddar
cheese, grated
• seasoning to taste, including salt, cracked black pepper, nutmeg, English mustard (half a teaspoon) and a pinch of smoky paprika
• 10cm tart tins
*If you are on a diet or feeling the post-Christmas pinch, you can substitute the
cream with natural yoghurt
Method:
Make, chill, roll out, shape to your dish and then blind-bake your shortcrust pastry. Whilst it bakes (5 minutes), you can start to make your luxury dandelion and walnut filling.
Crack your eggs into a medium-sized bowl. Ribbon your dandelion leaves, chop your walnut pieces and put to one side. Pour the cream into the beaten eggs, add the grated oak-smoked cheddar cheese (keeping a third back to sprinkle over the top of the tarts) and stir. Season the mix and begin to assemble your tartines.
I am quite picky about this next bit because we all eat first with our eye, so I like to arrange the walnut pieces and ribboned dandelion leaves by hand in each tartine pastry case. Keep a little of both back to top the cream and cheese mix, which goes in next. Spoon the mix over the walnuts and dandelion, sprinkle a little more of both to build the filling up in layers, spoon over more cream and finish with a topping of grated cheese and a pinch of paprika.
If you are feeling adventurous you can also add your favourite herbs (lemon thyme is cute) and sprinkle toasted sesame seeds over the top before baking.
Bake in the oven until a crust forms over the filling; test with a skewer to check the egg filling has cooked right through before leaving to cool in the tin for 5 minutes.
Once out of the tin, you can serve the tartines hot or cold, or freeze a couple to look forward to some other gloomy day!
Vitality Notes
I can't pretend these luxury tartines are healthy: they're not, but they will go a long way towards boosting your mid-winter wellbeing by giving you something to look forward to eating at the end of a wintry day. If you want the digestive and diuretic benefits of dandelion, then take it in tincture form. Naturopaths use it to support liver function, so, again, it's a really good plant to be using at this time of the year, when so many of us are thinking about detoxing after the party season.