Rewilding Scotland
Donate Now
Issue 283

Mar/Apr 2014
Small is the New Big
Frontline
Rewilding Scotland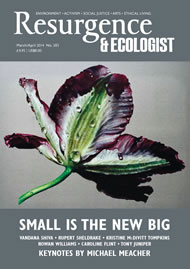 Cover: Clematis niobe, 2010 by Anne Middleton. Www.annemiddletongallery.com
One million trees and counting: celebrating 25 years of eco-restoration.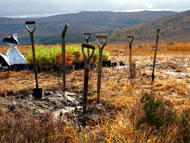 Planting at Dundreggan by Emma Gilmartin www.treesforlife.org.uk
This year, Trees for Life – one of Scotland's leading conservation volunteering charities – celebrates its 25th anniversary. Described by the writer George Monbiot as "the most ambitious rewilding project in the UK", the award-winning charity aims to restore the ancient Caledonian Forest to the west of Loch Ness and Inverness to a wilderness area of 1,000 square miles. The Caledonian Forest is Scotland's equivalent of a rainforest. It once covered much of the Highlands, in a wild landscape of mountains, lochs and rivers. But following centuries of deforestation, only a fraction of the original forest survives. Through its reforestation project, Trees for Life hopes to reverse this trend.
Since 1989, Trees for Life has now planted more than a million trees, and it has pledged to establish a million more, through planting and natural regeneration, by 2018. Already volunteers have created 10,000 acres of new forest, and in these emerging habitats a complex web of life is renewing itself.
"We are the last generation with the opportunity to restore this special place and its unique wildlife," says Trees for Life's Executive Director, Alan Watson Featherstone. "We have a chance to re-establish world-class wild landscapes in Scotland that are rich in wildlife." This habitat restoration is making a huge difference to the special wildlife of the Caledonian Forest, including the strawberry spider, red squirrel, osprey, wood ant and black grouse.
One area that is particularly rich in biodiversity is Dundreggan Conservation Estate, Trees for Life's flagship forest-restoration project in Glen Moriston. Bought by the charity in 2008, Dundreggan has been described as a "lost world" because of its huge range of rare and endangered species discovered. Biodiversity surveys carried out there in recent years have revealed almost 70 priority species for conservation, as listed in the UK Biodiversity Action Plan, and 10 species that had never been recorded in the UK before. One of those species, the sawfly Nematus pseudodispar, is extremely rare throughout the whole of Europe.
But this project is not just about places and wildlife – it's about people, too. The charity's reforestation work is carried out almost entirely by volunteers, with opportunities for people from all backgrounds to enjoy the health and wellbeing benefits of positive activity in a natural environment. Volunteers can become involved by joining a Conservation Week – voted one of the Top 10 Conservation Holidays worldwide by BBC Wildlife magazine in 2009 – or a Conservation Day. Some activities are specially designed to benefit disadvantaged people, such as those with mental health or mobility problems.
As well as helping to restore Scotland's natural environment and addressing global deforestation, volunteers have a chance to learn new skills and gain knowledge and confidence in carrying out ecological restoration work – through planting trees, removing non-native species or conducting biodiversity surveys. Spending a week among the forests and mountains of the Highlands often touches people profoundly, and volunteers frequently report a sense of fulfilment that comes from knowing their work will bear fruit long after their lifetime. Natalie Allain, who volunteered in Glen Affric, said: "My experience volunteering with Trees for Life was nothing but positive. I have come away with a new love for the Scottish Highlands, a heightened respect for the majesty of trees and some great new friends."
Trees for Life also offers the opportunity for families, groups and organisations to sponsor groves of trees, celebrate births, weddings and other special occasions, or offset carbon emissions. As we go to press, the welcome news is that Trees for Life has just been awarded £50,000 as part of the People's Millions lottery funding.
Penny Bunting is a writer and editor who contributes to national and local publications. She is Director and co-founder of award-winning environmental project Little Green Space. She tweets @LGSpace.