Moving the World
Donate Now
Issue 283

Mar/Apr 2014
Small is the New Big
Reviews
Moving the World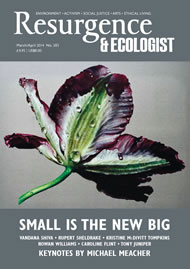 Cover: Clematis niobe, 2010 by Anne Middleton. Www.annemiddletongallery.com
Karen Christensen reflects on the creation of the Berkshire Encyclopedia of Sustainability.
Anyone who studies the global environment has moments of sadness when they look at what we've lost, at stupid choices made, and at good decisions made too late. For those of us compiling the world's largest and most comprehensive work on environmental sustainability – the Berkshire Encyclopedia of Sustainability – the data was often shocking and it made me reflect, quite painfully, on the time that had passed since I first wrote about sustainability.
The Berkshire Encyclopedia of Sustainability was finished at the end of 2012, a year of environmental anniversaries: 20 years since the first Rio Conference, 25 years since Our Common Future (also known as the Brundtland Report) gave the world a definition of sustainability, and 50 years since Rachel Carson's Silent Spring launched the modern environmental movement. Anniversaries like these are bittersweet, as we reflect on hopes unfulfilled.
Why are we still talking so much and doing so little? Are we thinking enough about the real impact of what we do, in our personal lives and in our work? I look at my own life and know I have not done as much as I hoped to. In 1992 I moved from London to the small town of Great Barrington, Massachusetts, with two small children and a contract to write a book about the search for community. That book is still unfinished. Instead of finding the simple country life on a commune that my editor envisioned, I've ended up running a business, with a personal life that extends from a small-town Main Street and New York to Beijing.
On the other hand, I tell myself, I have done things I couldn't have imagined then – not only the Encyclopedia of Sustainability, but the Encyclopedia of Community, published in 2003 with SAGE, and a great deal of work about China, and with Chinese organisations. I've learnt about the human past from the greatest of world historians. I work with authors across the globe, recognising that their influence, and ours, is based on how we act locally – in our neighbourhoods, our towns and boroughs, in the classroom and in the boardroom.
What I tell my kids, when they complain about the mess my generation has made and the huge difficulties their generation has to confront, is that this is our time in human history and each of us has a chance to make a difference, in a smaller circle or a much larger one. What matters now is that we find new ways to connect, share knowledge, and take action. Archimedes said: "With a lever long enough, and a place to stand, I can move the world." Knowledge is the lever; community is our place to stand. Together we can move the world.
The 10-volume Berkshire Encyclopedia of Sustainability provides authoritative coverage of the growing body of knowledge about ways to restore the planet. Focused on solutions, this interdisciplinary print and online publication draws from the natural, physical and social sciences – geophysics, engineering and resource management, to name a few – and from philosophy and religion. The result is a unified, organised and peer-reviewed resource on sustainability that connects academic research to real-world challenges and provides a balanced, trustworthy perspective on global environmental issues in the 21st century.
The set includes concise overviews from experts on an array of sustainability-related topics, compiled into thematic volumes. The reader will find solid research data, thorough analyses, and jargon-free discussion, effectively transforming a fast-developing research domain. It has nearly 1,000 authors in 55 countries, and here is what Gro Harlem Brundtland wrote about it: "The call we made in Our Common Future, back in 1987, is even more relevant today. Having a coherent resource like the Encyclopedia of Sustainability, written by experts yet addressed to students and general readers, is a vital step, because it will support education, enable productive debate, and encourage informed public participation as we join, again and again, in the effort to transform our common future."