Another Language
Donate Now
Issue 283

Mar/Apr 2014
Small is the New Big
Reviews
Another Language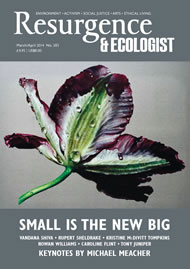 Cover: Clematis niobe, 2010 by Anne Middleton. Www.annemiddletongallery.com
As the author of her biography, Philip Pegler celebrates the prescient Nature poetry of his friend Clare Cameron. Hidden Beauty of the Commonplace: A Nature Mystic's Reflections upon the True Meaning of Freedom. Changemakers Books, 2013.
Something is waiting to be said, But not in the language of our time. That is too harsh, staccato, brittle, Discordant, disruptive, arrogant. There is another language That falls like dew on fever, Or some other time can break the heart, And it comes like a thief in the night.
– from The Word
More and more, our contemporary world seems a brittle, volatile and dangerous place, which has almost entirely lost a natural sense of sanctity and forgotten the real value of beauty. Dazzled by speed and addicted to sensation, we live immersed in tired concepts, while our anxious, restless thoughts tend to engender a seething cauldron of words from which continual confusion is generated. How soothing then to read impassioned poetic lines in altogether another language – "That falls like dew on fever".
These decisive but delicate words in the verse opening this article were written by the gifted English mystical poet, Clare Cameron, who was born of humble origins in the East End of London in 1896 and was at the peak of her creative powers during the exuberant decade of the 1960s.
Before I encountered Clare's lyrical work towards the end of her long literary career and near the start of mine, I had little interest in poetry. Once I read her poignant and sensitive verse however, my poetic sensibility was deeply touched and I would eventually be empowered thereby to discover my own creative potential as a writer.
By wondrous chance I was soon fortunate enough to become Clare's friend. It was to prove a surprisingly profound and transformative friendship, which was to culminate in my first attempt at biography, a book written in tribute to her – Hidden Beauty of the Commonplace: A Nature Mystic's Reflections upon the True Meaning of Freedom.
From the outset our relationship seemed blessed with the stamp of auspicious destiny. Having rashly abandoned a promising journalistic career, I had travelled to India in 1970 in quest of spiritual truth. It was there, while staying at the ashram founded by Ramana Maharshi at the foot of the sacred mountain Arunachala in Tamil Nadu, that I discovered in the library a quaint monthly magazine begun by the wise Christian mystic Henry Hamblin.
Clare was by now the skilful and experienced editor of this slight but influential periodical, Science of Thought Review, after she had resigned her previous post as editor of leading English Buddhist journal The Middle Way.
I happened to notice that the magazine was published near where my father lived, and furthermore became gripped by the incisive clarity of her editorials, with which I immediately felt great affinity. Without delay I wrote to her and soon received a courteous reply, which welcomed me into her rich creative world where loyalty and love ruled. It is a precious place I have never cared to leave – Clare died in 1983 but her sane and balanced philosophy of compassionate nonviolence continues to nourish me to this day.
An ardent adherent to the ancient perennial philosophy, this remarkable writer took her courageous stand at the crossroads of all great spiritual traditions at a pivotal time of social upheaval when our modern, competitive society was just beginning to send forth pernicious roots of global capitalism to foster further deprivation, injustice and tyranny in the world.
As a Nature poet of rare quality, who foresaw with keen acuity the current era of menacing turbulence, she consistently articulated an inspiring message of hope while championing the causes of interfaith dialogue and the environment during this earlier period of the 1960s when the urgent need for religious tolerance and ecological awareness was but slowly being recognised.
Clare Cameron found her deepest joy walking alone in Nature – and as the following verse makes plain had unreservedly pledged her troth to the natural elements then enfolding her in true freedom:
I am green earth's daughter Sister to wind and water And fathered by the sun From an ancient magic Fashioned was my fabric Ere the flesh was spun.
– from Earth, Wind and Water