Peace Activism Past And Present
Donate Now
Issue 284

May/Jun 2014
Ecological Feminism
Web Exclusives
Article
Peace Activism Past And Present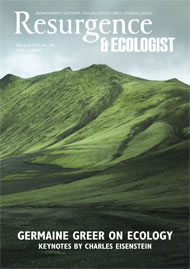 Cover: Landmannalaugar, Iceland ©Zack Seckler/Corbis www.zackseckler.com
Tagore's vision of global unity and peace continues to influence musicians, dancers, thinkers and activists and his message is more important now than ever.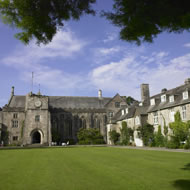 Schumacher College
The Tagore Festival at Dartington Hall, Devon founded by Satish Kumar in 2011, takes peace as its theme this year - this centenary of the outbreak of World War I. The Anglo-Asian annual festival presents the responses of musicians, dancers, thinkers and activists to the idea of global unity that Rabindranath Tagore proposed over 100 years ago in India.
According to Satish Kumar: 'Tagore transcended divisions of nationality, race and religion and saw humanity as one and in harmony with the natural world ... At a time when humanity is fragmented and divided, we need the message of Tagore in our time - now, more than ever.'
Tagore's (1861-1941) profound and lasting influence on Dartington started when its founder Leonard Elmhirst first read Tagore's Gitanjali songs in 1915. Elmhirst then worked for Tagore in India at Sriniketan, meaning Abode of Peace: a rural regeneration project and weekly boarding school for village boys, which later became the basis for Mahatma Ghandi's national education policy.
Elmhirst went on to create the experimental Dartington Hall School based on Sriniketan. An alternative to the public schools before the UK's welfare state, it was attended by the children of Bertrand Russell, Aldous Huxley, Ernst Freud (Sigmund's son), Ben Nicholson and Barbara Hepworth.
Tagore's powerful Gitanjali songs also led him to become the first non-European to win the Nobel laureate in 1913. His work was prophetic in predicting the outbreak of two world wars, and he wrote after the first: 'It will take a tremendous effort and also an immense lapse of time to make [war] a thing of the past. When the spiritual ideal is lost, when the human relationship is completely broken up, then individuals freed from the creative bond of wholeness find a fearful joy in destruction' Tagore ('Letters to a Friend,' 1920).
The founder of the Tagore Centre UK, Dr Kalyan Kundu, says Tagore 'easily came to the conclusion that until the bigger nations, aided by their superiority and vast technological advances, ceased their desire for territorial expansion and aggrandizement exploiting the smaller weaker nations, world peace can never be achieved.'
For Tagore, nationalism is the cause of all war: in particular the way it gnaws at the root of all understanding between countries.
'Nearly seventy years have passed since Tagore's death and the world we now live in is still witnessing insane violence and destruction around us,' says Kundu. 'Territorial issues, differences in faith, religious extremism, overpowering Western influence, and issues around money and power have caused grave problems and heartache for all sides involved in the Arab-Israel conflict, the war in Eastern Europe, civil war in parts of Africa, and tensions between Indian and Pakistan and currently in Syria. The rise of religious extremism, with terrorist groups destabilizing and influencing young minds, and the invasion of Iraq by US and its allies, which has split even the West - all of these are happening as a result of hatred, greed, power struggle and supremacy in the name of democracy and human rights.' Kundu will talk at the Tagore Festival on Tagore's ardent belief that world peace could be achieved only if both the East and the West met on common ground and on terms of equal fellowship (21 June).
Three-times Nobel Peace Prize nominee and a recipient of the Niwano Peace Prize, Dr Scilla Elworthy will talk at the Tagore Festival of her life's work in bringing opposites together before rifts take hold (21 June). She founded Peace Direct, which supports local action against conflict; Oxford Research Group, a think-tank devoted to developing effective dialogue between nuclear weapons policy-makers and their critics; and she helped set up The Elders initiative as an adviser to Sir Richard Branson, Peter Gabriel and Archbishop Desmond Tutu.
While Tagore spoke a language of our common humanity understood across religious and cultural divides, Elworthy creates institutions with common membership to strengthen relationships between opposing sides.
In her forthcoming book, Pioneering the Possible: Awakened leadership for a world that works, Elworthy notes: 'I observe two phenomena happening simultaneously. On the one hand humans are stripping the earth of its natural resources so fast that entire eco systems are collapsing ... On the other, humans are waking up to an entirely new perception of how the universe functions ... The most powerful forces in that direction are the empowerment of women to share with men the responsibilities of decision-making, and secondly the energy, alertness and skills of young social entrepreneurs the world over. These forces are gaining impetus, fast; when and how will they reach critical mass? The future really is in the balance.'
You can meet just such entrepreneurs at the festival: Ben Yeger, Momin Swaitat and Lotan Sapir of peace organisation Combatants for Peace. Previously involved in the Israeli-Palestinian conflict, they share personal stories of transformation from violence to non-violence and invite dialogue with the audience about this conflict while telling the story of Combatants for Peace.
Anyone with an interest in peace activism will gain a deep understanding of what it means to live in harmony with former enemies and the earth at Tagore 2014. As Dalai Lama XIV says 'We can never obtain peace in the outer world until we make peace with ourselves' and festival founder Satish Kumar will focus minds on peaceful transformation by leading a guided meditation session on the festival's closing day.
The Tagore Festival at Dartington Hall, Devon, takes place 20-22 June 2014. Find out more about Tagore: Celebration of Peace and buy tickets at www.tagorefestival.com.