Action From the Grass Roots
Donate Now
Issue 285

Jul/Aug 2014
Energy of Nations
Frontline
Action From the Grass Roots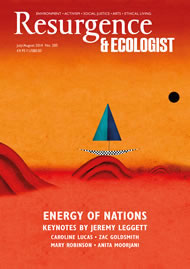 Cover: Illustration by Michael Morgenstern www.mmorgenstern.com
Grass roots initiatives from around the globe.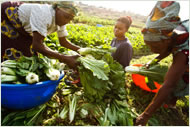 Harvesting crops © FAO/Olivier Asselin
AFRICA: 10,000 FOOD GARDENS
The Slow Food Movement's Thousand Gardens in Africa project was so successful – creating 1,000 sustainably managed food gardens in 26 countries since 2010 – that it has recently relaunched the project with the aim of creating 10,000 gardens throughout the continent. These new gardens have the potential to increase food production and local resilience in the face of growing pressure from globalisation, as well as diversifying diets and improving nutrition.
Slow Food president Carlo Petrini emphasised in his speech at the launch of the project that the approach of 10,000 Food Gardens in Africa is about jointly addressing problems that concern many people – hunger, pollution and land grabbing, to name but a few – but beyond that it can reconnect young people to the land in myriad ways that give them an income, a stake in their own future and an opportunity to address some of the issues locally that are impacting us all globally, such as climate change and economic instability.
www.slowfoodfoundation.com/slow-food-africa
INDIA: HUGGING THE TREES
In West Bengal forest-dependent communities are re-
establishing their rights despite repressive measures by the state to try to make their direct action illegal. In Chilapata, indigenous forest communities successfully stopped the government-run forest department from logging more than 20,000 mature trees that were to be taken from forests under community control. This led to unprecedented repression by state agencies, including police raids on villages, and arrests of leading activists and Gram Sabha (village council) members on trumped-up charges.
However, a local court granted all the activists bail. The scenario was repeated when a village community from an adjacent forest area again stopped logging operations by the forest department. There was a massive mobilisation of hundreds of Gram Sabha members, including large numbers of women, who literally hugged the trees to prevent them from being cut down. Despite the efforts of government officials and police to turn this community action into a criminal offence, forest people in hundreds of villages in the area continue to defy this resource grabbing – with their bodies and lives if necessary.
USA: OCEAN PLASTICS
When Grammy award-winning pop stars start talking about sustainability, the world sits up and takes notice. Such was the case when Pharrell Williams, musician and creative director of Bionic Yarn – a company that develops and manufactures premium yarns and fabrics using fibres derived from recycled plastic – announced that Bionic is going into partnership with G-Star, a Dutch clothing company, to make an entirely new fabric created from recycled ocean plastic.
The resulting non-profit Vortex Project has three goals: to retrieve floating plastics from the oceans and beaches; to help restore the resilience and health of marine ecosystems; and to recycle the ocean waste into smart products like G-Star's new RAW for the Oceans clothing range. Whilst Bionic recognises that we need to reduce plastic waste at source, its aim is to "disrupt the cycle" of ocean pollution. It is a big challenge, not least because harvesting ocean plastics is logistically difficult – but scientists and environmentalists are working together to produce the world's first jeans made from ocean plastics this August.
www.parley.tv/thevortexproject
BANGLADESH: GRAMEEN SHAKTI
Grameen Shakti (Village Power) is one of the largest and fastest-growing renewable energy companies in the world. Established under the umbrella of the Grameen Bank – a community development bank that offers microcredit to impoverished people without requiring collateral – Grameen Shakti has become highly effective in promoting solar home systems and biogas technology for low-income households in inaccessible areas, by enabling soft financial credit through affordable repayments.
The solar systems are used to light homes, shops and fishing boats, to run televisions and radios, and to charge mobile phones, making a major contribution to the viability of villages that are not connected to an electricity grid. These solar systems have become popular in thousands of villages because they are easy to install and there are no monthly bills, no fuel costs, and minimal repair and maintenance costs. The initiative has made a positive impact on the lives of hundreds of thousands of rural people. Grameen Shakti also installs biogas plants and promotes the use of organic fertiliser in villages across Bangladesh.
UK: GREENING THE CITY
As part of a £4 billion investment in the redevelopment of London's Victoria district, 25 hectares of green roof space will be created. The 10-year regeneration strategy, where "sustainability plays a key factor in design and function", will make the area one of the most biodiverse places in the city. The aim is to turn Victoria from an urban jungle of windswept, traffic-ridden thoroughfares into a more pleasurable place to visit, live and work.
The plan is to link living walls, roof gardens, water features, public art and trees with existing verges and seating areas. Rainwater will be harvested from roofs and stored in collecting tanks, where it will be used for irrigation of the new green spaces. As well as considerably increasing biodiversity, the green infrastructure will help to improve air quality and sequester carbon dioxide. The precedent-setting work of Victoria's Green Infrastructure Audit was supported by Natural England, and since its adoption other London boroughs have implemented their own green audits.
tinyurl.com/victoria-BID-audit
UK: A NEW VISION FOR THE SOMERSET LEVELS
The Intergovernmental Panel on Climate Change (IPCC) has warned that the intensity and frequency of storms like those experienced in the UK last winter are likely to increase as climate change strengthens its grip. The future of the Somerset Levels – one of the worst-hit places in the UK – has had to be re-evaluated, so this spring a task force of farmers, wildlife groups, official agencies and councils agreed a Vision for the Somerset Levels and Moors in 2030 for the sustainable development of the area.
In addition to repairing infrastructure and creating a sluice gate at Bridgwater to alleviate water build-up, the aim is to create and manage extensive wetland pasture that will accommodate winter flooding, thereby reducing flood risk elsewhere. Previously fragmented habitats such as flower-rich meadows and fens will be reconnected, creating a world-class haven for wildlife and waterfowl.
Optimum use of higher land for farming will eventually put an end to previously unsustainable farm practices, allowing for the replenishment of low-lying peat moors, whilst support for new businesses based on green tourism will build on the potential of what could in the longer term become the Somerset Broads.