Hidden Lanes
Donate Now
Issue 286

Sep/Oct 2014
Politics of Peace
Frontline
Hidden Lanes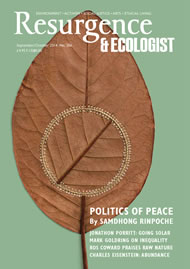 Cover: Navigation by Susanna Bauer. Photo © Simon Cook
Get out of the car and onto the moor.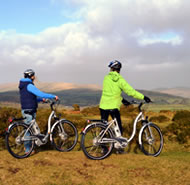 Dartmoor's breathtaking vistas © www.dartmoorwalksthisway.co.uk
Avid readers of this column since its inception as Good News for Gaia over 20 years ago will know that I have consistently advocated the joys of electric bicycling – indeed, in one of my first articles I reviewed an e-bike prototype, designed by Clive Sinclair, which boasted little more than a rubber band and a very heavy battery, and which, sadly, didn't propel me up the steep hills of Hartland as I'd dreamed! But technology has improved, so when my friend and fellow Schumacher College alumnus Inga Page suggested that I join her on her new venture – Dartmoor Electric Bicycles – there was no stopping me.
One of Inga's motivating factors for starting her e-bike initiative was that she'd noticed tourists visiting Dartmoor in their droves but barely walking more than a few hundred metres from their cars, which were invariably parked at one of the moor's 'honeypot' attractions. Inga realised that a combination of the challenging walking terrain and lack of knowledge about where it is possible to walk put people off actually experiencing the tranquillity and wilderness that the moor still offers.
I joined Inga and a group of five other cyclists on a warm and sunny late spring morning, blessed by the songs of the cuckoo and the willow warbler. Our trusty steeds were awaiting us in the bike shed: sleek, lightweight e-bikes designed and built in Switzerland to cope with that most rugged of terrains. A 16-mile cycle through the lanes, hills and valleys of Dartmoor would be a breeze, then! Well, not quite.
We set off and got used to the bikes on the track that led out of the farm. Unlike many e-bikes I'd tried previously, this one was almost silent – such a joy – and the lithium-battery-powered engine had enough energy for even the most vertiginous slopes of Dartmoor, although one has to pedal steadfastly too. It is definitely good exercise. As Inga took us deeper into the countryside, the sounds of modernity slowly ebbed away and we became enveloped by the warmth of the sun and the sounds of Nature: babbling brooks, twittering swallows, snuffling Dartmoor ponies and the murmur of the gentle breeze. It was utterly magical.
Inga's knowledge of the hidden lanes of Dartmoor is exceptional. Hearing the ancient names of the tors and valleys, learning about the Bronze Age burial sites and peering into the salmon's spawning streams all gave a fascinating extra dimension to the tour. As we looked across Challacombe Valley towards Widecombe-in-the-Moor, we saw ancient oak woodlands and whole hillsides covered in a haze of bluebells, the scent combining with may blossom to create a heady, evocative atmosphere.
My somewhat sedentary lifestyle in front of a computer began to take its toll with about two miles of the ride left, but, perhaps more by design than accident, the last leg was mostly downhill, past a historic watermill and over a beautiful, narrow river bridge, and I had just enough puff left to make it back to the bike shed in one piece. Whilst you don't have to be hyper-fit for the e-bike tour, a bit of stamina is necessary. Nonethless, it was a memorable and highly enjoyable way to experience Dartmoor in all its verdant glory – for visitors and locals alike.