Blackberry Bonanza
Donate Now
Issue 286

Sep/Oct 2014
Politics of Peace
Ethical Living
Blackberry Bonanza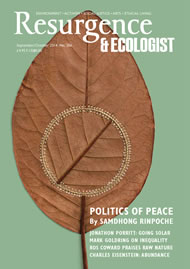 Cover: Navigation by Susanna Bauer. Photo © Simon Cook
Susan Clark captures happy memories of autumnal foraging in a breakfast bowl of golden granola.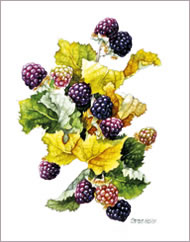 IIllustration by Caren Heine www.cheine.com
I like the word 'bonanza'. It reminds me of the TV Western series that ran from 1959 to 1973 spanning 14 seasons and 430 episodes – many of which I watched with my brothers, Timothy, Vaughan, Jeremy and Christian. And many of which – if it was autumn – we'd only be allowed to sit down and watch on a Saturday teatime after we'd scrubbed away the tell-tale wine-coloured fingertip stains that were the result of having spent the afternoon out blackberrying in the Devon lanes.
At least that's what we said we'd been doing.
And whilst it's true we would arrive home bleeding from the nasty bramble scratches up and down our bare arms and arguing about who had picked the biggest bucket-load of juicy blackberries, that's not all we would have been up to.
Our favourite bramble patch overhung an old disused quarry a mile or so from our home, and this was our gang's HQ. The quarry pit had long ago filled with rainwater and we had an old rotting rowing boat we secreted here for urgent escapes. Nobody knew how the boat had first arrived at the quarry or who it really belonged to, and since we would usually be the only people there, the hows and whose didn't matter.
What mattered for blackberrying missions was that the boat gave us access to the more difficult to reach bramble patches, and with one sibling hanging onto the trouser leg of another, we would stand on tiptoe on the boat's old bench seat and reach as far as we could to drag those branches down and pick the best of the fruits.
When we tired of this – and the way those brambles fought back – we'd simply lie back in the boat, pick the tiny bramble thorns out of our wounds, and take turns rowing each other in meaningless circles around the circumference of the pit whilst sucking the juice from the biggest berries we'd picked and then pulling the pips from our teeth.
Blackberries in childhood were also great for faking a bloody injury, especially after a clash with a rival gang. I'd like to say this was all very innocent, but whilst there were no weapons other than hands, fists and the odd hurled stone, it's shocking to think back to how much those gangs (average age about 10) really did dislike each other for no other reason than that they went to different schools.
Once home, where the rule was never to talk about gang clashes, whatever the injuries, my brothers had no further interest in the blackberries, but I would spend the rest of the weekend trying to make jam.
I say trying because (a) I was very young, (b) I had no jam-making equipment of any kind, and (c) I spent a lot of time having to scrape jam that had failed to set back out of the jar to reboil whilst I scrubbed those sticky jars clean again.
What I remember most about those early jam-making sessions is a feeling of dogged determination to end up with a jam that did eventually set, that did capture the glorious taste of sweetened blackberries and that my brothers would devour on great hunks of crusty white bread.
This autumn, I've made blackberry and cider jelly (I don't really like the pips in blackberry jams) and I've hidden a few jars away for later in the year when the rich hedgerow harvest of blackberries will be a fading memory.
But I have also extended my blackberry repertoire and found a way to start my day with a tribute to the blackberry bonanza of autumn by making and enjoying a bowl of home-made blackberry granola.
Granola is so easy to make – and so expensive to buy – that I don't know why I don't make it all the time. But I had this vision of a rather luxurious-looking breakfast cereal that would be a real celebration of the autumn hedgerow by including blackberries and hazelnuts.
The challenge was how to dehydrate the blackberries without decimating them (I still don't have the 'proper' kit), so I tried slow-baking them to remove most of the moisture (juice) and then allowed them to semi-dry out of the oven before tossing them into the granola.
This process was messy, but it worked, so it was worth all the clearing up after myself.
I had started with high hopes for the finished dish, but it was so pretty that it surpassed all my expectations. Because the blackberries had only been semi-dried, a little of the remaining moisture leached into the toasted oats and desiccated coconut strands to give the finished cereal a pretty pinkish background tinge, which made a beautiful contrast to the dark purple of the baked whole blackberries that go in for the last bout of baking.
The glory of granola is that as long as you have your basic sweetened oat mix you can pretty much make it up as you go along and include any of your favourite dried fruits, nuts and seeds.
Serve this blackberry granola with a tangy plain yoghurt for a healthy breakfast you'd pay a fortune for at Claridge's – or anywhere else that is miles from an actual hedgerow.
Into the kitchen
Blackberry Granola
Ingredients
• 300g rolled oats
• 2 tbsp sunflower oil
• 2 tbsp clear honey
• 125ml maple syrup
• 1 tsp vanilla extract
• 200g mixed seeds (I use sunflower, pumpkin, sesame)
• 100g flaked almonds
• 100g toasted hazelnuts (see below)
• 50g desiccated coconut
• 100g semi-dried hedgerow blackberries (see below)
To semi-dry your blackberries:
This takes a little time and patience; select the best of your blackberries and place them on a cooling rack to allow the juice to drip down onto the tray you place underneath the rack.
You only need about 100g of the dried blackberries to make an impact, so a single tray should suffice.
Preheat your oven to 100°C and place the tray/rack and blackberries carefully into the middle of the oven to slowly semi-bake. This will take 30–50 minutes, depending on how juicy your blackberries are and the quirks of your oven. Keep an eye on them – you want semi-dried but not shrivelled blackberries in your finished dish.
Remove blackberries from the oven and leave for an hour to continue drying before adding them to your granola.
To toast your hedgerow hazelnuts:
As your blackberries are semi-baking, place 100g of hazelnuts on a parchment-paper-lined baking tray and allow them to toast slowly. Again, keep an eye on them, and turn them from time to time so that they toast evenly. You want the nuts lightly toasted, not burnt.
Remove them from the oven.
To prepare your granola mix:
Preheat your oven to 150°C.
Mix your rolled oats, sunflower oil, honey, maple syrup and vanilla extract in a large bowl. Add your seeds, almond flakes and toasted hazelnuts, but keep the blackberries and coconut to one side.
Tip the granola mix onto two flat baking sheets and spread thinly. Bake for 10 minutes, check, mix, and bake for another 5 minutes.
Now add the coconut and blackberries.
Mix, spread out again and return to the oven for 15 minutes, checking and turning regularly to get an even, golden-toasted colour throughout the mix.
Remove when the granola is golden brown and then allow to cool, during which time it becomes deliciously crunchy.
Break up any clumps and store the mix in airtight containers for up to a month.
Vitality notes
Blackberries are a rich source of immune-boosting vitamin C, so country folk would traditionally make bramble cordials, teas, tisanes and syrups to use throughout the winter to help stave off the common cold and other ailments, including sore throats and chest infections.