The Living Sea
Donate Now
Issue 286

Sep/Oct 2014
Politics of Peace
Reviews
The Living Sea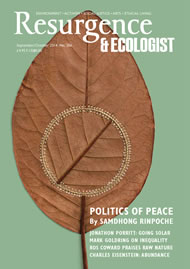 Cover: Navigation by Susanna Bauer. Photo © Simon Cook
Stephan Harding comments on a thrilling voyage of discovery – where the world is more alive and enchanted than is normally accepted. Spindrift: A Wilderness Pilgrimage at Sea by Peter Reason. Vala Publishing Co-operative, 2014. ISBN: 9781908363107
In this rich, beautifully written book, Peter Reason shares his search for the sacred wildness of the world during a return voyage in a small sailing boat from Plymouth in south-west England across the Celtic Sea to the remote Blasket islands off the south-western coast of Ireland. My seasickness at the slightest roll of a boat prevents me from experiencing anything of the tumultuous ocean, or of developing the deep knowledge that seasoned mariners such as Peter have of tides, maps, tackle, huge waves and tempestuous, seascaped weather. But reading Spindrift from the solid reassurance of the land gave me a palpable sense of what it would be like to set out on such an adventure, apprenticed to the wide oceanic soul of our planet, in search of meaning.
Peter shares a great deal in this book, both about the practice of sailing and about his own deep ecological wisdom as it unfolds during the long voyage. Coral, his 31ft boat, is our home, small in the vastness of the ocean. We meet her sails, her ropes and rigging, her pumps and boathooks, and experience her cramped but well-designed interior. We learn how to steer her in various ways, how to cook a meal on her tiny gimballed stove, how to sleep in a bunk during a storm. We share Peter's delight at the intricacy of naval charts arrowed with flows of water around rugged coastlines. We feel the cosy security of our waterproofs in rough weather, even as we experience our fragility and vulnerability in the massive waves that crash onto the boat's deck.
As we travel we learn, amongst other things, about the state of the Earth, about Gaia theory, about Peter's life as a university professor pioneering the practice of Action Research, about Chan and Zen Buddhism, and we see how Peter slowly realises his aim of discovering "how might we again experience ourselves as participants in a wider, more-than-human world". We witness how, mostly alone, but sometimes in the company of his friend Gwen, he is helped by the ocean to reach the lived, bodily experience that "the world is more alive, more sentient, more interconnected and more enchanted than is normally accepted in Western civilisation". We witness with delight how he enters into a wider conversation that takes place not via words and images but by means of "physical interaction with wind and water".
By the time he reaches Bolus Head, near Darrynane in South-West Ireland, on the extreme outer edge of Europe, his marinating in the ocean's soul has found its maturity, for he experiences Bolus Head itself and the Atlantic swell around it "not as things in the world, but as presences with which I was required to negotiate". The world has at last taken on a "subjective presence". It is alive, it feels, it knows. This is what we must all discover in our bones and guts if we are to live well with the world. This is the end of our destructive 400-year-old voyage of cosmos-as-machine, and is the beginning of a new voyage in which the world wakes us into aliveness when we recognise her aliveness in the midst of our loving, empathic interactions with her. With Peter, in his marvellous book, we enter into the world as a great story, full of ineffable meaning, and at last find our true home.
Spindrift was the winner of the Rubery Book Award for non-fiction. www.ruberybookaward.com