Resurgence in Action
Donate Now
Issue 287

Nov/Dec 2014
The Future We Want and the One We Can't Afford
Frontline
Resurgence in Action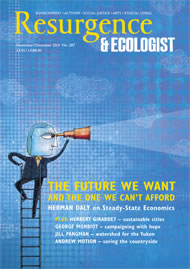 Cover: Illustration by Dennis Wunsch www.denniswunsch.com
Summer Camp sparkles with inspiration.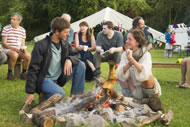 Photo by Matt Adam Williams www.mattadamwilliams.co.uk
The sun shone, it rained, but then it shone some more… This year's Resurgence Summer Camp had its damp moments, but for all those who were there it was a bright gathering in very special surroundings.
The camp, held at the Green and Away outdoor conference centre in Worcestershire, featured a lively mix of events, giving Resurgence & Ecologist readers a chance to discuss a wide range of 'soil, soul and society' topics, as well as enjoying practical events – and some excellent food and entertainment.
Archaeobotanist-turned-farmer John Letts drew an enthusiastic response from his audience when he talked about the need to preserve biodiversity in our fields. He described heritage grains and the many benefits they engender, including their greater resilience to climate change and lower gluten content than conventional varieties. A pioneer in recovering, preserving and growing ancient wheat varieties, John cultivates many of them on his farm and is campaigning against the restrictions currently placed on our valuable grain heritage – whilst it is legal to grow them, it is illegal to trade them.
Jon Every and Susan Clark led a wild-flower and botanical cooking workshop, which included foraging for wild foods and making sourdough bread incorporating the plants that were collected. The bread was cooked on the open fire in the middle of the camp's 'village green' – bringing the ideas from John Letts' talk into action.
Other highlights included Matt Harvey's readings of his poetry, which is both humorous and pointed. The 'open mic' session brought together a joyous mix of performance poetry, spiritual music, improvisation, and even choral music from a group of young singers fresh from performing in several European cathedrals. It was deeply humbling and moving to connect with the other camp members through this sharing of poetry and music.
In another session, Tom Crompton, Change Strategist at WWF-UK, revealed new research on how campaigners can best spread their messages, aligning them with intrinsic values. This philosophy is at the heart of the camp: each of us, through our own considered actions, really can change the world. One participant, Ian Mowll, said: "The Resurgence Summer Camp gives me the fuel to carry on living and promoting eco-justice."
Next year's Resurgence Summer Camp will be held from 30 July to 2 August. For more information visit www.resurgence.org/summercamp